Hundreds of Students Rally in Albany for Funding for Nonpublic Schools
Even a nor'easter could not deter the hundreds of Jewish day school students, lay leaders, parents and teachers from across New York State from joining the OU's Teach NYS advocacy delegation to Albany this past March. Chief among the issues discussed was additional, sustainable funding for New York's historic STEM program, which allows the state to reimburse nonpublic schools directly for the cost of qualified STEM instructors.
Torah means we care about everyone, every child, every family. That's what we are doing here today. . . . We are not just asking for ourselves; we are asking for everybody. – OU President Moishe (Mark) Bane
Also on the day's agenda was advocacy for increased funding for schools' security budgets and continued funding for Comprehensive Attendance Policy (CAP) and Mandated Services Reimbursement (MSR) programs.
"Your right to choose how and where to be educated, without financial penalty or hardships, is a civil right that every parent and student in this state should enjoy," OU Executive Vice President Allen Fagin said.
Teach NYS is part of the OU's Teach Advocacy Network, a nonpartisan organization advocating for equitable funding in non-public schools.
OU Advocacy's Big Wins for Schools, Shuls and Israel
As anti-Semitic incidents in the United States surged to record numbers during 2017, the OU Advocacy Center pressed Congress to bolster federal security funding to help schools, shuls and other nonprofits make their facilities safer. In March, that advocacy paid off as Congress doubled funding for the Nonprofit Security Grant Program to $50 million—the largest amount of funding ever for the program.
Through 2017, the Department of Homeland Security allocated a total of $209 million for the NSGP, and most of the recipients have been Jewish organizations. Annual funding for the NSGP has averaged $20 million. But the results of OU Advocacy's latest drive to increase safety at schools and shuls didn't stop there: This year, Congress authorized an additional $10 million in security grants for schools, synagogues and other buildings located outside the NSGP's designated major metropolitan areas.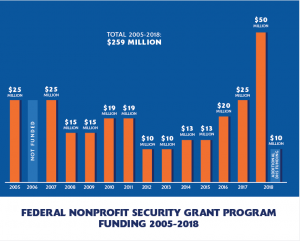 Also in March, Congress approved other legislative items within the framework of an omnibus appropriations bill that were at the top of OU Advocacy's agenda:
1) The Taylor Force Act will suspend American financial aid to the Palestinian Authority as long as it continues to pay financial stipends to terrorists and their families.
2)  The STOP School Violence Act includes Jewish and other nonpublic schools. This legislation was introduced in the wake of the school shooting in Parkland, Florida. It authorizes $175 million over the next ten years for the Justice Department to make grants for an array of school building safety improvements and training.
3) The preservation of a section of the "Every Student Succeeds Act" that provides $2.1 billion in federal funds for professional development programs for teachers, including those at Jewish and other nonpublic schools.
Also within an omnibus bill, the OU Advocacy Center ushered in a new era of fairness for disaster-damaged shuls: Until recently, synagogues, churches and mosques damaged in hurricanes and other natural disasters were refused assistance by the Federal Emergency Management Agency (FEMA).
But after almost twenty years of work by the OU Advocacy Center, the agency changed its longtime policy and Congress passed a new law reversing FEMA's longtime practice. (Although approved in February, the law was funded in the March bill.)
Now, synagogues and other house of worship—which often serve on the front lines during natural disasters—are eligible for federal disaster aid on the same terms as other nonprofits. The OU Advocacy Center spearheaded the coalition that pressed for these modifications.
This past year, OU Advocacy worked with Congress to double funding for the NSGP to $50 million.
Security Funding Win for Florida Nonpublic Schools
Teach Florida applauds Governor Rick Scott and the Florida Legislature for approving funding of $2 million to harden security in at-risk nonpublic schools, including Jewish schools, as part of the state's 2018-19 budget. The funds will provide for security measures including fences, cameras, shatter proof windows, key card entry systems and crisis communication systems.
"With the rise in anti-Semitism and the proliferation of gun violence, as we just witnessed in Parkland, this funding will provide much needed upgrades to Jewish and all nonpublic schools at risk," says Mimi Jankovits, Executive Director of Teach Florida of the threefold increase in security funding from last year's allocation.
This article was featured in the
Summer 2018
issue of Jewish Action.