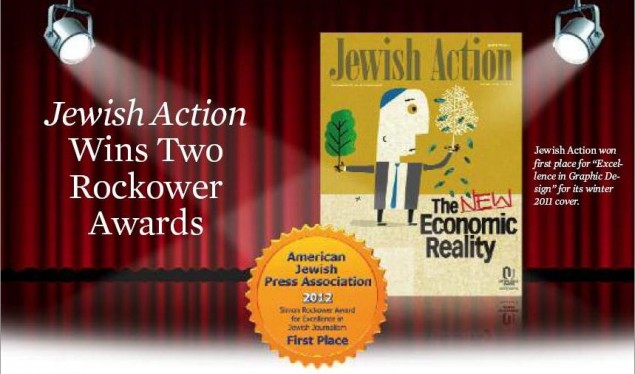 Jewish Action won two first-place Simon Rockower Awards at the recent 2012 Annual Conference of the American Jewish Press Association in Philadelphia. The awards ceremony, which brought together leading Jewish editors and journalists throughout the country, was held at the National Museum of American Jewish History. The Rockower Awards decisions were made by a panel consisting of twenty-four judges with expertise in journalism, writing/reporting, editing, graphic design and cartooning in both the Jewish and non-Jewish media.
Jewish Action won two first-place awards in the annual journalism contest. In the Magazine Division in the category "Excellence in Special Sections or Supplements," Jewish Action took first place for its section entitled "9/11 Ten Years Later." Written by Bayla Sheva Brenner, senior writer in the OU Communications and Marketing Department, "9/11 Ten Years Later" features the personal reminiscences of family members who lost loved ones on that fateful day as well as first-person accounts of those who were trapped in the streets of downtown Manhattan. The section brings readers back to that ominous day in American history, and includes the story of Abe Zelmanowitz, an Orthodox Jew who remained with his quadriplegic friend on the twenty-seventh floor of One World Trade Center and lost his life in the attack.
JA also took first place in the Magazine Category for "Excellence in Graphic Design" for its winter 2011 cover "The New Economic Reality," designed and illustrated by Yocheved Lefkovits and James Yang. The judges' comments were:  "Lively and effective."
"When I was appointed Chairman of the OU Communications Department, I noticed immediately that the creative and editorial staff of Jewish Action are equal to any mainstream magazine in the country," said Gerald M. Schreck. "These awards confirm my earlier convictions. I am proud to be involved with this quality magazine."
"As a regular reader and fan of Jewish Action, I was thrilled when its awards were announced during our annual gala at the National Museum of American Jewish History in Philadelphia," said Marshall Weiss, Editor and Publisher of The Dayton Jewish Observer and the newly elected President of The American Jewish Press Association. "Jewish media organizations that win AJPA Simon Rockower Awards are the best in our enterprise."
This article was featured in the
Fall 2012
issue of Jewish Action.