The unemployment rate may be tipping the 9 percent mark, but the OU's job fairs continue to counter the dismal statistics. Since their inception in 2007, these increasingly popular events have resulted in nearly 300 new employees thrilled to have jobs to go to each morning.
This past August, the eleventh OU Job Fair, held in Borough Park's Renaissance Ballroom, drew 450 participants; fifteen job-seekers were hired on the spot and thirty-eight were called for second interviews. Before the doors even opened at 11:00 am, close to fifty participants had arrived, eager to explore job openings.
"I saw a position that looked very promising," said Bill Greenbaum of Manhattan while waiting for an interview.
An IT project manager and business analyst, Greenbaum has been out of work for close to a year, but remains hopeful. "This is a fantastic opportunity; the employers here are talking to people about real openings; and they're all ok with the fact that many of us are observant. It's great to have that already understood."
The job fairs are run by the OU Job Board, a program the OU established to assist job seekers. According to Rosner, 70 percent of the companies at the fair were recruited via the OU Job Board web site, which features thousands of jobs each month. The remainder heard about the fair from social media or through word of mouth.
Scores of tables dotted the elegant ballroom, each displaying a prominent sign bearing the company name and a listing of its current job openings. The hall was abuzz with nervous anticipation, hope, and camaraderie. Participants drew support from the sense that they were in this together as they waited on line.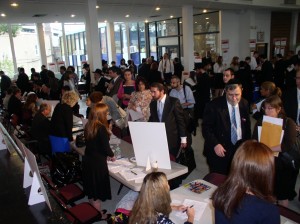 Since 2007, the OU has held eleven job fairs throughout the New York/New Jersey area, linking unemployed individuals with potential employers. In September 2010, more than seven hundred job seekers attended job fairs held at the Brooklyn College Hillel.
"We look for a comfortable venue, where people feel encouraged, not intimidated," says Rosner.
The OU Job Board's effort to link employers with the Jewish community's unemployed began with a "virtual job fair." Two hundred participants "met" with human resources professionals via a video hookup at the OU headquarters in Manhattan. Twenty attendees walked away with jobs and fifteen more received offers upon completing follow-up interviews. On the heels of the first fair's success, the next one, held two months later, yielded a nearly 50 percent hire-rate on the second interviews.
By 2009, Rosner decided to bring the job fairs to various communities. The fairs, attracting an average of 400 to 700 job seekers, have been held at locations including Staten Island, Brooklyn and Manhattan, as well as Teaneck and Bergenfield in New Jersey.
Some of the fair participants would later wind up on the other side of the table. "I got my job at the previous fair," says David Friedman, associate at Forest Hills Financial Group in Queens, New York, who was interviewing candidates for the company.
"The only time I will come out in the field is for an OU job fair," says Edward Kornfeld, senior vice president in charge of associate development and talent acquisition, who hired Friedman. "I really enjoy coming. I like the atmosphere and the quality of the participants. I never have to turn people away; most are that qualified."
The fairs draw participants from across the spectrum. "We represent every demographic," says Rosner. "Plumbers, physicians, advanced computer programmers, salespeople, electricians and many more."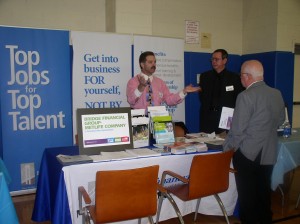 An OU job fair, held in May 2011 at the Joan and Alan Bernikow Jewish Center in Staten Island, New York, resulted in sixteen on-the-spot job offers and fifty-eight call back interviews.
Avraam Rubinov and his brother Yakov, both hearing impaired, came to the fair hoping to fill positions offered in graphic arts and data processing respectively. "People may think that deaf people cannot talk on the phone, but they can, with the Video Relay Service [VRS]," says Avraam, referring to a service that allows deaf and hard-of-hearing individuals to communicate over the telephone with hearing people via a sign language interpreter. "I would like to work in a company as an assistant in graphic design, web site design and video editing." He came equipped with vivid samples of his work.
Rosner plans to bring job fairs to Chicago and Philadelphia in the near future. He is also working on running a virtual job fair for individuals with disabilities. "We first have to find the employers," says Rosner, "then we will work together with NJCD/Yachad, the OU's program dedicated to enhancing the life opportunities of individuals with disabilities, to make it happen."
OU President Dr. Simcha Katz, who was behind the creation of the OU Job Board, felt gratified to witness the flurry of activity. "It's a tremendous chesed to help someone find a job," he says. "It gives chizuk even to those who don't come away employed; they are able to see that people care and that we are giving them an excellent opportunity to try and succeed."
Bayla Sheva Brenner is senior writer in the OU Communications and Marketing Department.
This article was featured in the
Winter 2011
issue of Jewish Action.