Inside the OU
Victory at the Polls: OU Mobilizes New Yorkers To Approve The Smart Schools Bond Act
For Election Day 2014, one question before Jewish New York voters was: Do you want New York Jewish day schools and yeshivahs to get tens of millions of dollars from the state for classroom technology?
New Yorkers were presented with Proposal #3—the Smart Schools Bond Act, an initiative originally proposed by Governor Cuomo. If passed, the referendum would be funded with $2 billion for all schools to receive technology equipment and upgrades; of that amount, Jewish day schools and yeshivahs could receive up to $32 million.
With palm cards, posters, videos, social media and outreach to all of the schools in its network, OU Advocacy-Teach NYS, which focuses on advocating for the needs of the non-public school community, conducted a full-scale Get Out the Vote campaign to raise awareness about the benefits the Smart Schools Bond Act could provide to Jewish day schools and yeshivahs and urge the community to vote yes for the referendum.
On Election Day, their efforts bore fruit: the Smart Schools Bond Act passed with more than 60 percent of the vote.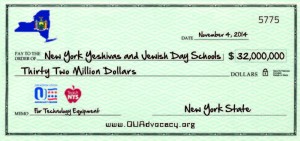 The OU Advocacy-Teach NYS team worked with state legislators and Governor Cuomo's office during the previous legislative session to ensure that nonpublic schools would be included in the bond funding. The team will continue to work with legislators to finalize details about how the funding will be appropriated and allocated.
"Our field directors worked tirelessly to ensure that the entire community understood the potential outcome this referendum could have for their schools," says Jeff Leb, New York state director for OU Advocacy. "They helped get the Smart Schools Bond Act across the finish line."
Jake Adler, New York City director of political affairs, says, "Jewish day schools and yeshivahs are eager for any funding that helps them provide their students with state-of-the-art technology and keep pace with today's environment. We are grateful to Governor Cuomo for developing this important initiative."
Arielle Frankston-Morris, director of field operations for OU Advocacy-Teach NYS, notes how important a strong turnout at the polls is for the Jewish community. "Legislators track where votes come from. They consider the issues of their constituents who show up at the polls. When the Jewish community has a strong presence at the polls, that demonstrates we care about who represents us and the issues that affect us," she says.
This article was featured in the
Winter 2014
issue of Jewish Action.