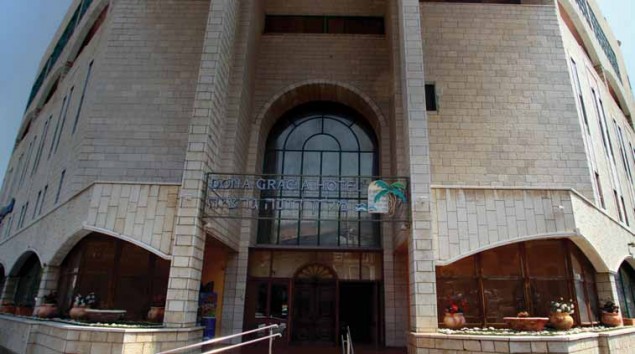 A cultural center, hotel and museum all rolled into one, the House of Dona Gracia, complete with renaissance-style decor and elaborately dressed actors, transports visitors back to the sixteenth century. Photos: www.sasson-photos.com
A cultural center, hotel and museum all rolled into one, Tiberias' House of Dona Gracia, replete with renaissance-style décor and elaborately dressed actors, transports visitors back to the sixteenth century. The story of Dona Gracia—beautifully commemorated in this one-of-a-kind museum-hotel—will not only give you much insight into a turbulent period in Jewish history, but will also leave you inspired and uplifted.
Dona Gracia Mendes is one of the most fascinating and influential Jewish personalities to emerge from the dark period of the Spanish Inquisition in the fifteenth and sixteenth centuries. The story of her life weaves together power and guile, wealth and statesmanship, determination and Zionist commitment.
Beatrice de Luna, who eventually became known as Dona Gracia, was born in Lisbon, Portugal, in 1510 to a family that had fled from the Spanish Inquisition. When the King of Portugal married the daughter of Isabella and Ferdinand—the monarchs who had expelled the Jews from Spain—the Inquisition came to Portugal, and Dona Gracia grew up as a first-generation Marrano (secret Jew). In 1528, the young Dona Gracia married a wealthy spice merchant and financier named Francisco Mendes, who was also a Marrano. The wedding ceremony was outwardly Catholic but secretly Jewish, complete with the signing of a ketubah.
When Francisco Mendes died in 1538, Dona Gracia moved to Antwerp to join her brother-in-law, Diogo, who operated a branch of the family bank there. Upon Diogo's death in 1542, Dona Gracia assumed the management and sole ownership of the Mendes family commercial empire, which was substantial, and became a very successful businesswoman. In her capacity as head of one of the world's wealthiest banks in the sixteenth century, Dona Gracia met with both political and religious leaders including Henry II of France, Henry VIII of England, Charles V of Spain and Popes Paul III and Paul IV. But the Inquisition was relentless, and Dona Gracia was forced to flee to Venice in 1544.
In Venice, Dona Gracia was betrayed and arrested. Only the intervention of the sultan of the Ottoman Empire saved her from the fate that so many other Jews suffered. She moved to Istanbul, then known as Kushta. In 1554, Dona Gracia, now one of the wealthiest and most influential women in the world, entered the Ottoman capital accompanied by forty mounted horsemen and four carriages. For many decades Dona Gracia had used her wealth and her wisdom to avoid the traps that political and religious leaders had tried to set for her. Now, in the safety of the Ottoman Empire, Dona Gracia (it was here that she abandoned "Beatrice," her Christian name) was able to live, for the first time, openly Jewish.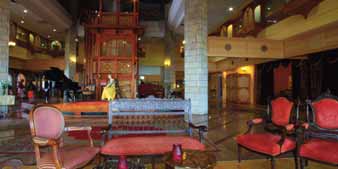 A tour of the House of Dona Gracia begins in the lobby of the hotel, in rooms designed to resemble sixteenth-century Lisbon, Antwerp and Kushta.
Dona Gracia's name was admired all over Europe and especially in the clandestine escape routes that Jews were using to avoid the Inquisition. Under her guidance, hundreds of agents operated all over Europe to assist Jews in escaping to Greece (Salonika) and Turkey, a rescue operation not unlike that of the Haganah in the aftermath of the Shoah.
In Kushta, Dona Gracia supported the study of Judaism and the printing of Jewish books. She hosted great rabbis, scholars and Jewish leaders. She built synagogues and paid the salaries of teachers and rabbis. Dona Gracia saw all this as a step towards something more—the revival of a Jewish presence in the Land of Israel. This final dream was realized when Sultan Suleiman the Magnificent, who was indebted to Dona Gracia, offered her land in the cities of Tzefat and Tiberias. And so, 300 years before Theodor Herzl stood on the podium at the First Zionist Congress in Basel, Switzerland, Dona Gracia Mendes was determined to establish a refuge for her people who survived the worst anti-Semitism the world had yet known by rebuilding the city of Tiberias.
One of the four holy cities of Eretz Yisrael, Tiberias is where the Sanhedrin had sat 1,000 years earlier as its members compiled the Talmud Yerushalmi. Dona Gracia used her wealth and power to try and fulfill her ultimate dream of building a safe home for her fellow Jews in our ancient homeland. Unfortunately, she passed away in 1569, when workers had only finished building the southern city wall of Tiberias.
As I set out to write this article, I wanted to suggest an interesting place to visit during one of the rainy winter days in Israel, when tourists have to scramble to find a worthwhile indoor attraction. As it turned out, I happened to visit the House of Dona Gracia on a scorching August day. Once inside the museum, however, I realized that the story of this remarkable woman and her accomplishments is so compelling that visitors should consider a stop at the museum irrespective of the weather!
A tour of the House of Dona Gracia begins in the lobby of the hotel, in rooms designed to resemble sixteenth-century Lisbon, Antwerp and Kushta. A guide in era-appropriate attire leads visitors from room to room and relates the story of this extraordinary and influential woman. On the second floor, a series of exhibits, featuring miniature models, depict scenes of Dona Gracia's life. Explanatory signs are in Hebrew as well as in English. A visit to the museum requires advance reservations (Tel.: 972.4.670.0930 from outside Israel, 04.670.0930 within Israel, web site at www.donagracia.com.
Peter Abelow is a licensed tour guide and associate director of Keshet: The Center for Educational Tourism in Israel. Keshet specializes in creating and running inspiring family and group tours that make Israel come alive "Jewishly." He can be reached at 011.972.2.671.3518 or at peter@keshetisrael.co.il
This article was featured in the
Winter 2010
issue of Jewish Action.