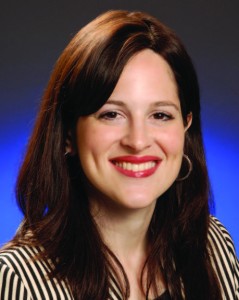 This is excerpted from a larger article entitled "Striking a Balance" about women who balance careers and family from our winter 2012 issue. 
I grew up in Boro Park and attended Bais Yaakov of Boro Park and then Touro College, where I studied finance and computer science. After that, I worked in my family's business, a financial services company. When I was already married with one child and expecting my second, I enrolled in an MBA program at Columbia University. There was an option to do a third year to earn a second master's degree. Since the core courses were the same in both programs, my husband urged me to "treat myself" to the third year. Hence I earned a second master's in international relations, with a concentration in the Persian Gulf.
Toward the end of the program, one of my professors suggested that I apply to the White House Fellows program, which selects individuals between the ages of thirty and forty (I was thirty-one at the time) to spend a year working for senior White House staff members, cabinet secretaries and other top-ranking government officials. [It is one of the country's most prestigious programs for leadership and public service. White House Fellowships offer exceptional young men and women first-hand experience working at the highest levels of the federal government.]
At the time, I had a two-year-old and a one-year-old, and I didn't think it would be appropriate for me. Two years later, however, I decided to apply for the program. Since I had a business degree and business experience, I thought that if I were accepted, I would be assigned to the Treasury Department. To my surprise, I was assigned to the Department of Defense in the Pentagon. They had never selected a woman before, and I was told that I was chosen because I had "operational experience," that is, I had run my family's business. I put in a year, and it was wonderful. After that, I was appointed special assistant to the secretary of the Navy, working on "troubled programs"—programs that were running over budget or not functioning well.
Shortly afterward, a new military command was established—Cyber Command—consisting of a team recruited to work on protecting military networks. I became part of that team, and it evolved into my current position as special assistant to the director of the National Security Agency, which is one of the largest intelligence agencies of the Department of Defense. I'm part of a group that is responsible for raising the security of critical private sector cyber-infrastructure.
Because I get so much sipuk (satisfaction) from my job, I never feel that it depletes me, although obviously there are times when I am tired. My children are eleven and ten now, so they're more independent. I need to arrive at my desk early in the morning, so my husband gets the kids out to school before leaving for his job (he's a lawyer). Our kids are pretty organized and generally get themselves ready in half an hour. They've never known anything other than having a working mother.
I work long hours, and therefore have to make decisions about how to best allocate my time. I used to stress out about neatness, but I don't anymore, and I pay for help. I don't shop much—I've cut out going to malls; I order online instead. I have a babysitter for the kids after school, and she also helps with food preparation.
I shop for Shabbos on Wednesday and split the cooking with my husband. After fourteen years of marriage, we've established a rhythm. I don't bake challah or cake, because it's just not that important to me. I've learned to decide for myself what's right for me and my family instead of listening to what other people think I should do. For me, a happy family is the most important thing.
I tend to invite more guests for yamim tovim than for Shabbos. In fact, we never have guests on Friday night; that's our family meal. On Friday night my husband and I go for a walk—often just near the house—and that's an opportunity to spend time together since we don't have a "date night." But we're still working on finding more time for each other. The kids and our jobs always seem to take priority—I think that's the hardest piece of the juggling act.
During the week, I don't have a lot of time to daven. But I love our shul in Baltimore (we moved to Baltimore seven years ago for my job) and attend every Shabbos. I go to shul because I enjoy it, not because I feel it's a duty.
I devote Shabbos and Sunday to spending time with the kids. While our son is in yeshivah in the morning, I'll go for a walk with my daughter, or paint pottery, or engage in some other activity with her. In the afternoon, we generally have a family activity. I have a Blackberry, but I try not to answer it when the kids are around; I'm not reachable 24/6.
I've found that what I've given up most in the work-family equation is personal time with friends. On the other hand, I'm able to enjoy interactions with other women and the satisfaction of doing chesed through Sister to Sister, an organization I founded with a few others to help divorced Jewish women. Sister to Sister began seven years ago when I got a call from a friend about a divorced woman who had lost her programming job and was about to be evicted along with her four kids. We raised some money to help her (at the time I didn't know she had also been the victim of abuse). I was living in Boro Park then, and couldn't believe that this could happen to a Jewish woman. I began making calls to see if there were any chesed organizations to help women in situations like this, but there weren't. I began talking to divorced women and heard from many who were suffering from loneliness and financial stress; many had to give up financial support from their husbands in order to receive a get, and they lacked education or training to obtain decent jobs.
Sister to Sister offers many services, including yom tov placements, mentoring and Shabbatons. We currently have some 200 volunteers and 800 members, mostly in New York and New Jersey. I derive great personal joy and spiritual recharging from it—it's become my own social network. It's the kind of thing where you get back so much more than you give.
I've learned to decide for myself what's right for me and my family instead of listening to what other people think I should do.
Simply entering into the wider working world was a big change for me. I grew up in a pretty sheltered milieu. My family is what you would call "very heimish." My mother and sister are stay-at-home mothers, and growing up, I didn't really have any role models of working women. I heard a lot of "a frum woman can't do this; a frum woman doesn't do that." But I strongly feel that a woman should use the talents Hashem gave her, and that being frum is not a barrier to professional success.
There was a good deal of culture shock when I first came to work in Washington, DC. While my colleagues had heard about Rosh Hashanah and Yom Kippur, when it came to Sukkos, they said, "What? Another holiday, so soon?" I never had to explain my own practices or view my religion through the eyes of other people before, and it took time for me to get comfortable answering people's questions about Judaism.
When I first started the Fellows program, I had the opportunity to go on an eight-day trip to various countries in the Middle East. There was no kosher food, so I ate vegetables and drank coffee with the others, and then ate from my stock of cereals and granola bars in my room. One day, a three-star general from Washington State, a man you might characterize as real salt of the earth, took me aside and said, "Anne, I need to talk to you . . . you know, everybody is talking about you."
I was sure I had done something terribly wrong. I felt ready to dissolve into tears, anticipating the worst. He started telling me that medical care is available and that they could help—it seemed that everyone was convinced I was anorexic. So I had to explain to him that I only eat kosher food, and he responded by offering to arrange it for me. I didn't feel comfortable asking for special treatment, so I just kept refusing.
Well, back then I didn't know you don't argue with a three-star general. As soon as I boarded the plane for the next trip, the steward pulled me aside and proceeded to show me a cabinet stocked with all this kosher food I never eat—borscht, gefilte fish, the works. He said, "The general told me, 'Whatever this kosher thing is—make sure you get it for her!'"
I learned through experience that if you are firmly committed to your principles, people will respect you. My non-Jewish and non-observant colleagues are some of the finest people I've ever met. They're disciplined, committed, principled. Obviously, there are boundaries: I can't go out with them on their Friday night get-togethers or to Saturday Marine Corps parades. I used to feel left out, but I realized that I really do need and value my Shabbosim.
I wish I had been more prepared for going out to work as a frum woman in the secular world; I certainly didn't get such preparation in Bais Yaakov. There are all kinds of challenges. The first time I had to walk out on my team on a Friday afternoon was very hard—in fact, I still find it hard, even when I offer to come back on Motzaei Shabbos or Sunday. It would have really helped to have a frum female mentor show me the ropes and help me feel secure about standing up for who I am.
I'm the first frum person most of my colleagues have ever encountered, and it's a tremendous responsibility to always be an example of integrity. I do my best, even if I don't get it right 100 percent of the time.
My husband helps keep me on the straight and narrow. He'll call and say, "Anne, it's time to come home . . ." I give him all the credit—I couldn't do what I do without all the help and support he gives me.
In terms of community support for working mothers, I wouldn't mind a little more accommodation with regard to yeshivah schedules. Why do they schedule school plays for 11:00 in the morning, or 1:00 in the afternoon? For a working parent, it's so much better not to break up the day. I was once unable to attend my daughter's school play. Afterward, she told me, "Mommy, you were the only parent who didn't come." That felt awful. Teachers should also be available at convenient times for working mothers; it would go a long way to help us.
We should change our message to young women and tell them that they can do whatever they aspire to, even if they have to take ten years off to raise a family. Every woman needs an outlet for her talents, whatever that outlet may be. Find something you enjoy, and keep your skills fresh. If at all possible, find yourself a mentor, preferably a frum Jewish woman. Even if you don't work outside the home, you can still find an outlet for your talents. You like to sing? Join the N'shei Players. Like to work with kids? Start an activities group. Also, learn to navigate the secular world as a frum Jew without apologizing, without abandoning your principles, but also with a sense of how and when to be flexible. I'm happy to offer myself as a mentor to younger women.
When I think about how seven out of eight of my great-grandparents were killed by the Nazis and here I am in a job where I can contribute my skills and make a difference working for the US government, I feel such a debt of gratitude. I really believe in our country and the ideals it seeks to uphold.
Barbara Bensoussan has worked as a university instructor and a social worker, and currently writes for Jewish newspapers and magazines. Her most recent novel is A New Song (Southfield, Michigan, 2007).
This article was featured in Jewish Action
Winter 2012
.