People
FRANK BUCHWEITZ: The Planner Par Excellence
Frank Buchweitz's office at the Orthodox Union headquarters in downtown Manhattan is small, his desk crowded but not disorderly. A dry-erase board on the wall across from him has every square inch scrawled over in purple marker: Call Rabbi G. Confirm appointment with Rabbi S. Follow up on printing of brochure.
"Welcome to my world," Frank says, gesturing towards the overflowing outboxes and double monitors. He is a trim man in his early sixties, with a broad and engaging smile. In his position as national director of community services and special projects for the OU, Frank has run programs aimed at strengthening the Jewish family for the past fifteen years. His programs cover everything from eating disorders to unemployment to marriage. The sheer array of programs Frank oversees—nearly fifty each year in communities across the country—is enough to make a person's head spin. Despite the frantic pace of his work schedule, Frank is a hands-on administrator. When he runs a program, he's busy with everything—from making sure the microphones work to warmly greeting people at the door.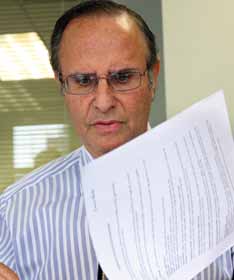 Photos: Judah S. Harris
"Frank is successful because of his personality, his sense of responsibility and his attention to detail," Rabbi Dr. Tzvi Hersh Weinreb, OU executive vice president, emeritus, says. "I remember one night we were supposed to do a program together in the Five Towns [in New York], but there was an ice storm. While driving in from Monsey, where he lives, Frank's car skidded off the road into a ditch. But he got on the phone with me and his assistant to make sure every detail was taken care of, down to the coffee and Danishes."
"Trying is not important, succeeding is," says Frank, whose persistence is legendary.
Once, when he was leading an OU mission to Israel, mission participants were horrified to learn that the airport staff at Ben-Gurion Airport was on strike. The tour operator and baggage handlers insisted it would be impossible to obtain the group's luggage. Frank wouldn't take no for an answer. He found a top airline executive and spoke with him. Within a few minutes, the luggage conveyer belt began moving.
Frank (who listens to every speaker before he will hire him or her) is known to his colleagues as a supremely organized workaholic.
"I don't have time to read all of my e-mails during the day," says Frank, "so I triage them and address them when I get home."
"Frank is always in movement," says Susan, his wife of more than twenty years. "The ideas are always percolating in his mind." Frank pioneered the now-ubiquitous parenting workshops and conferences for the frum community, bringing leading mental health specialists to discuss sibling rivalry, discipline, responsibility and other front-burner issues in parenting. As part of the OU's mission to strengthen Jewish families and communities, Frank also created the highly acclaimed OU Marriage Enrichment Retreats, where happily married couples spend a weekend enhancing their relationships. Branching out to health care, Frank ran a panel discussions on "When Serious Illness Strikes—Who Makes the Decisions?" featuring healthcare professionals, lawyers, rabbis and social workers. He was also behind the OU's Health Care Proxy/Living Will Online Registry, which enables individuals to register their "directives" on-line at no cost, in case of unanticipated health crises. This information can be accessed by medical personnel and hospitals around the world.
Frank also launched a "Making Tefillah More Personal and Inspiring Initiative," where hundreds of participants attended sessions in various communities to gain a greater understanding and appreciation of tefillah. His "Take Five for Tefillah" series on oucommunity.org—five-minute, downloadable shiurim given by various rabbis—are geared to bring more spirituality into people's lives.
Frank is successful in bringing first-class speakers to his programs because he has always worked hard at establishing valuable relationships with all the personalities he meets. Passionate about his work, Frank truly enjoys running programs that make a difference. "I get an inner sense of satisfaction from seeing the effect the OU can have on people's lives," he says.
Frank signed on to community work early on in life. Born in the 1940s to survivors, he grew up in modest circumstances—" the hand-me-down era," he calls it—on 152nd Street, a rough neighborhood in New York bordering Washington Heights. His father, who spoke little English, found work in an air conditioner factory and his mother worked in an umbrella store they both founded. His uncle, Ernst Baer, the only other family survivor from Europe, was also a role model for Frank. He was a Shatzmatz (Shliach Tzibbur, Moreh Tzedek in Germany) who taught Frank how to daven as a ba'al tefillah, and how to layn and blow shofar.
During his childhood, Frank spent summers at Camp Deal (now known as Camp Dora Golding), where his parents paid the enormous sum of $10 a week in the early 1960s. He worked at the camp with newly married Heshy Weinreb, who served as head counselor. It was during those years that Frank became an avid lover of Jewish music and an outstanding softball player ("Years later I became the Willie Mays of the Monsey league," he jokes).
"Frank is still a bit of a camp counselor. . . we all are, really; we've just found different ways to express it," says Rabbi Weinreb.
"Trying is not important, succeeding is," says Frank, whose persistence is legendary.
Frank's fondness for sports served him well when he was introduced to Susan, currently the clinical director of the Birchwood School, a special education school in the Clarkstown School District.
"We played tennis on our first date," she says. "I later learned that it was typical of Frank not to suggest the standard dinner date but to be creative and think out of the box."
Frank attended Yeshiva Soloveitchik in Washington Heights and then City College of New York (Baruch College), where he earned a BA in business administration. His first job was in a day school in Toronto, which in 1967 offered him the extravagant salary of $8,100 a year. Frank stayed for seven years, working as a vice principal and doing kiruv in the days before the word was coined.
He returned to New York and earned his MA in educational administration from New York University, and became a licensed school principal. Frank served as principal at Yeshiva of South Shore and Bais Yaakov of Brooklyn.
"I invested twenty-two rewarding years into chinuch," says Frank, who still meets former students and often surprises them by remembering their names, even twenty andthirty years after they graduated. "The students made an impression upon me," says Frank. "How could I ever forget them?"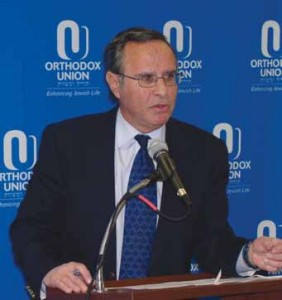 Frank introducing a speaker at one of his many programs.
But while Frank loved chinuch, it wasn't easy to support a family on a yeshivah salary. So when Rabbi Steven Dworken, former executive director of the Rabbinical Council of America was looking to hire a coordinator to organize a convention encompassing many major Jewish organizations, Frank was happy to accept the offer. While consulting for the project, Frank was based at the OU, where the OU executive vice president at the time, Rabbi Raphael Butler, quickly took note of his superb organizational and administrative skills and asked him to organize an OU mission to Israel. The mission, the first of its kind for the OU, was a great success, and in 1995, Frank was offered a full-time position at the OU as director of special projects.
In 2000, after spending a few years developing programs and missions for the OU, including the well-known Torah Seminars for Women, Frank came up with the idea of launching a new kind of program—one that would deal with issues affecting people's everyday lives. Initially, there was skepticism. But when Frank organized a day-long conference on parenting at The Ramaz School in Manhattan that drew some 750 people, it was clear that a serious need in the community was being addressed. In the years since, the OU has sponsored a multitude of "Positive Jewish Parenting" workshops in communities across North America.
"Frank is someone who has his finger on the pulse of the modern Jewish community," says Rabbi Jonathan Knapp, principal of Yavneh Academy in Paramus, New Jersey, who has brought the program to Yavneh Academy several times.
When alcohol abuse first began to filter down into Jewish schools, the OU responded with yet another initiative.
"The yeshivot struggled with how to address this issue. It was painful and difficult to acknowledge that this even existed in the religious community," states Frank. "Many principals were looking for assistance and guidance to truly help children."
Frank collaborated with other principles and Jewish organizations such as the New York Board of Jewish Education, FEGS, and the Yeshiva Counseling Network to draw up guidelines for schools advising them how to address prevention and intervention. These efforts eventually segued into the "Safe Homes, Safe Schools, Safe Shuls" initiative, a unified communal response to confront the potential dangers facing our communities. Eating disorders was the next area Frank addressed together with Renfrew Center Foundation and mental health professionals.
All this sounds terribly serious for a man who has been known to put on a striped Cat in the Hat stovepipe hat while introducing Uncle Moishy at a Purim festival.
"He's always willing to take risks and try new things, whether it's zip-lining in Alaska or learning to ride a bike for the first time in his fifties," says Susan.
"He's constantly generating new ideas," emphasizes Rabbi Moshe Krupka, the former national executive director of the OU and currently an OU national vice president. "He's keenly aware of pressing social issues, and he'll use every modality—Internet, social networking—and package those issues so that the Jewish community can be better informed about what Jewish law and thought have to say in addition to the secular perspective."
"Frank's primary characteristics are his loyalty and dedication," Susan says. "He never does things halfway—he invests every fiber of his being."
Frank's efforts on behalf of the Jewish world have not gone unnoticed; this past winter, the Buchweitzes received the Community Service Award at the annual P'tach dinner. Daughters Sarah and Johanna were there to applaud Frank and Susan's efforts on behalf of the Jewish community.
Frank's deep commitment to the Jewish community keeps him energized and ready for the next project, the next idea. But this commitment runs quite deep. When Frank was cleaning out his parents' home after they passed away years ago, he discovered a scroll in German writing, yellowing with age. He held it up to look at it more closely. It was an award given in 1931 to his maternal grandfather for his dedication to the Jewish community. The legacy lives on.
Barbara Bensoussan has worked as a university instructor and a social worker, and currently writes for Jewish newspapers and magazines. Her most recent novel is A New Song (Southfield, Michigan, 2007).

This article was featured in the
Fall 2010
issue of Jewish Action.