In today's increasingly unpredictable economic times, more and more frum Jews are following their passions and choosing unconventional careers, finding that sometimes it pays to think outside the box.
Dr. Ben Kempner, Sir!
Frum Physician Goes Navy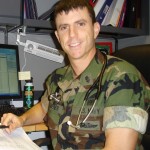 Navy Lieutenant Ben Kempner, thirty-two, wrestles with being a yarmulke-wearing, kosher-eating anomaly at work and a uniformed attraction sporting a crew cut in his Jewish community. Fearlessly jumping from combat-training planes in the middle of Fort Benning, Georgia, Lieutenant Kempner will admit that he's not your typical frum physician.
A graduate of Maimonides School in Brookline, Massachusetts, Lieutenant Kempner views his being the only frum naval officer at the Joint Expeditionary Base in Little Creek, Virginia, as a great opportunity. "I'm essentially an ambassador for our people, whether I want to be or not," he says. "And my colleagues are able to say, 'There's Lieutenant Kempner; he's a religious Jew and an outstanding naval officer.'"
Lieutenant Kempner, known around his command as "Doc," took pre-med courses at the University of Maryland and planned to become a doctor in a nice Jewish community. When it came time to apply to medical school, he researched a few in the Maryland area. As an afterthought, he applied to the Uniformed Services University in Bethesda, which prepares health professionals for careers with the Department of Defense. He got accepted. His father, a patriotic son of Holocaust survivors, urged him to go. "It's been a wild ride ever since," Lieutenant Kempner says.
During his first year in the Navy, Lieutenant Kempner worked round-the-clock in the military hospital. Aside from the physical demands, he faced some stressful halachic challenges. "I was desperately trying to arrange my schedule in a way that avoided my having to work on Shabbat and the holidays," he says. "Sometimes I found myself stuck there for a Shabbat on call. I'd answer my pager, return the phone calls, write the orders, and do my job as any Navy physician; there is no k'lachar yad in my line of work. When the pager goes off, I answer it, because a patient issue needs to be addressed immediately." [K'lachar yad, which literally means "in a backhanded fashion," refers to performing a necessary activity on Shabbat in a manner different from the way in which one would normally do it. The idea is to distance the activity as much as possible from actions resembling Biblical definitions of labor.]
Pushed to the Limit
Lieutenant Kempner endured the rigorous training required of all naval officers, becoming an airborne qualified officer which had him participating in combat-jump training with Navy Explosive Ordnance Disposal groups. "Those are the crazy guys who counter the IED [improvised `explosive device] threat in Iraq and Afghanistan," says Lieutenant Kempner. "They're the ones in charge of finding and rendering the explosives and roadside bombs safe; they are in high demand in the war-fighting effort."
His six grueling months of Navy diving school was no picnic either. "It's the hardest physical training I've ever been through," he says. "You're at the pool at 4:50 am and the first thing you do is swim a thousand meters. Then the instructors do what they call 'confidence training,' which involves underwater tasks of increasing length and duration. If you dare get up to take a breath, the whole class will pay; they'll have to hop out of the pool and do fifty pushups or more, then get back in and try it all over again. You can't believe in physical or mental limitations; you have to believe that no matter how hard the task, you can get through it."
He got through it, with a Navy diving certificate and a considerable boost in confidence. "I would have never imagined I was capable of this," Lieutenant Kempner says. "I don't think there's a test I can't study for now; I could walk into the office tomorrow and have twenty-five patients in the waiting room and it wouldn't stress me out; I'd know I could handle it."
Following a Higher Order
Growing up in a Torah-observant home prepared Lieutenant Kempner well for the Navy. "Like the military, Judaism is about orders. We have six hundred and thirteen," he says. "When I write orders for my nurses and corpsmen, they aren't just medical instructions; they are orders from a commissioned officer. When I receive direction from those above me, the same holds true. My boss isn't just my boss; he's my 'ISIC' [immediate superior in charge]. Moreover, yeshivah's dual curriculum and its ten-hour days of juggling different classes taught me to multi-task. That translates to Navy life incredibly well."
Lieutenant Kempner's Jewish education, coupled with his quick sense of humor, has also helped him tackle colleagues' inquiries about his "strange" practices. "Our calendar is peppered with holidays," he says. "My colleagues may have heard of Rosh Hashanah and Yom Kippur, but who's ever heard of Sukkot, Shavuot or Tishah B'Av? I like bringing in all the Old Testament references and telling them: 'If you'll just crack open the Book of Deuteronomy, you'll see it right there.'"
Lieutenant Kempner takes his she'eilot to his personal rav or the corps' Jewish chaplains. "The chaplains have been an active resource for me," he says. "If I ever find myself out on a field exercise for an extended period of time, I give them a phone call and promptly get a box of kosher MRE's [meals ready to eat]."
Lieutenant Kempner specifically chose the Navy over other branches of the military. "The Navy, especially the Medical Corps, is by far the most reconcilable [to leading an Orthodox life] from a geographic standpoint," says Lieutenant Kempner. Thus far, he has managed to spend his eight-year Navy career in proximity to Jewish communities, including Bethesda, Maryland; Groton, Connecticut and currently Norfolk, Virginia. "The possibility of a future assignment in Guam or Diego Garcia always exists," he says, "but I will work hard to control my destiny."
Right now, Lieutenant Kempner is grateful to be working "more normal hours" in a Navy clinic, but he expects to be rolling back into residency this summer. If the US is still in Afghanistan, it is possible he may be deployed. "Could I be required to work seven days a week for six months to help our sailors and Marines stay in the fight?" he asks. "Yes. Does the possibility of these things mean I should not have chosen this career path? I don't think so."
Binyamin Cohen
The Heimishe Houdini

Photo: Nancy Katz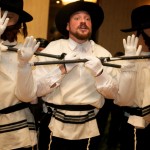 How many of us get to turn a favorite childhood hobby into a full-time profession? For Binyamin Cohen of Far Rockaway, New York, all it took was a snap of his fingers. After all, he's a magician.
At a time when many are struggling to eke out a living, Cohen, known professionally as "Ben Cohen Magician," maintains a steady stream of bookings. This highly sought after entertainer for weddings and Bar Mitzvot and winner of the prestigious International Brotherhood of Magicians' Magician of the Year Contest (2001), hasn't slowed down since his first twenty-five-dollar performance for a neighbor's birthday party—at age fifteen.
"Everyone still has to have parties," Cohen says. "When it comes down to it, they're not going to remember the food; they're not going to remember the band, but the guy in the middle of the circle [doing amazing tricks] will be in the photos, and is something that people love and remember."
After twenty-four years of perfecting his act, Cohen, who is also a mentalist, not only wows the crowd by producing doves out of thin air, pouring wine into a suspended goblet, and turning himself into a trio of dancing Chassidim, he also slips amazed audience members' cell phones into sealed cans of tomato paste and can tell you what pasuk in Chumash you are thinking of. It's no wonder that in 2000 he was selected out of 800 applicants to assist world-renowned magician David Copperfield in a five-month magic project in Manhattan's Times Square.
Under the Spell
A native of Riverdale, New York, where his father was rav of Young Israel Ohab Zedek, Cohen juggled his Jewish studies and his fascination with magic throughout his yeshivah years, focusing on his learning by day and delving into sleight of hand secrets by night. While Cohen attended Yeshiva Rabbi Samson Raphael Hirsch in Washington Heights, New York, Yeshivat Shaare Torah in Brooklyn, and Yeshiva B'nei Torah in Far Rockaway, he amassed a collection of 2,000 manuscripts and periodicals on the mystifying art of magic. He also managed to carve out time to view videos of current-day masters and refine his own technique before the mirror. "You have to understand optics, angles, and what people are seeing at every moment," Cohen says.
Cohen, who's married with three children, likes to keep his routine fresh by continually coming up with innovative tricks. "[The process involves] approaching an apparently impossible problem that I have to solve. For example, I need to get this object into an inaccessible location; how am I going to accomplish that?" He first tries it out on his friends. "If I can fool them, that's stage one," he says. "They are the most critical audience. Non-frum performers find the yeshivah crowd very difficult; they are not going to get one put over on them so easily."
During performances, Cohen consistently draws upon Torah references and holiday themes. On Chanukah, he makes candles appear and disappear according to the opinions of both Beit Shammai and Beit Hillel. "For Beit Hillel, I make the candles instantly multiply up to eight," he explains. "And for Beit Shammai, they disappear one by one. I've also displayed an empty vial that refills by itself eight times." For Sukkot, he has a dollar bill disappear and end up inside of an etrog.
During his shows, Cohen makes sure to dispel any concerns about the Talmud's denunciation of practicing magic. "First I talk to my audiences about the possible halachic problems with magic," he says. "Then I reveal how a particular trick works, how everything I do is [not supernatural], that I am really creating an illusion."
Seeing the Hand of Hashem—It's No Illusion
Cohen lands his jobs solely by word of mouth. "Everyone knows someone who knows me," he says. "When I perform at a party, I meet five hundred people; I make sure to stay and talk with them."
Ben Cohen makes sure to dispel any concerns about the Talmud's denunciation of practicing magic. "First I talk to my audiences about the possible halachic problems with magic," he says. "Then I reveal how a particular trick works, how everything I do is not supernatural, that I am really creating an illusion."
Yet, he really never knows where and when the jobs will come. "Most people don't get to see the direct hand of hashgachah in the work they do," he says. "The moment I finish a job, I'm unemployed until the next one. Somebody might cancel on me and a minute later I get a phone call out of the blue; someone wants to hire me to the exact penny of the job that just disappeared. I know it's completely min haShamayim."
Although he can't imagine doing anything else, Cohen admits that he wouldn't readily suggest that others pursue the life of a magician. "My schedule is totally opposite that of most people," he says. "I work nights and weekends. And I sometimes drive eight hours to get to a show and come home at four in the morning. But if you truly love the craft and love entertaining people, go for it."
Despite the job uncertainty and crazy hours, Cohen treasures every smile he elicits. Aside from entertaining at family semachot, he also shares his talents with individuals struggling with illness via various chesed organizations. "Knowing people are happy because I'm performing for them—that's the best," Cohen says. "[The truth is] I've never had a job; I get to do what I love. I'm making people happy."
Daniella Appel
The Violin Maker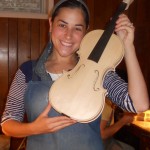 In a world where most everything comes off a conveyer belt, where can you still find the human touch? Ask Daniella Appel, the violin maker.
"I love that I'm creating something," says Appel, twenty-five, of West Rogers Park, Chicago. "A whole world can come from this one instrument that started as just a piece of wood. Once you finish, you can say you made it; it's your baby."
A graduate of Stern College and a current student at the Chicago School of Violin Making, Appel sits on her workbench every weekday morning to build another violin part. After the main body is done, she'll craft the neck and scroll and then move on to the fingerboard, working diligently. Each student is expected to complete this intricate process seven times, creating seven instruments in three years. Unlike most of her classmates, Appel arrived at the school without prior woodworking experience. "They had to teach me everything from scratch," she says. But the challenge didn't daunt her.
Raised in Pittsburgh, Pennsylvania, Appel—whose father is a doctor with a penchant for playing the violin—says that she always knew she needed to do something in music. She remembers being smitten with music at the age of six, gleefully banging away on the piano. Soon afterward, she was taking lessons. "Whenever times were hard, I would run to the piano," says Appel.
For the Love of Music
While the majority of her five siblings chose their father's field-of-choice, Appel felt especially drawn to his avocation. In 2009, an astute music professor at Stern suggested she try violin making. "I'm good with my hands and I'm musical," she says. "It made sense."
As most of her friends pursued careers in medicine or psychology, Appel started researching violin making schools. "Ever since I was young, I've always been different from my peers," she says. "They liked shopping and doing their hair, and I was always more into sports and cars. I knew that I wanted to do something out of the ordinary [when I grew up], something that I would want to wake up in the morning and be excited about."
As the only Jew at the school, Appel is still the different one. She is constantly aware of the responsibility that comes with this. "My father said that I need to make a kiddush Hashem," says Appel. "I'm the first Jew most of my classmates have ever met. It's interesting to see their perceptions of Jewish people, especially with all they read about the Middle East. I'm careful to speak in a positive and respectful manner and act responsibly. Whenever I use a workshop tool, I wash it afterwards and put it away; every time something runs out, I make sure to promptly refill it."
It takes six weeks to complete a violin or viola and 200 hours to make a cello. Appel admits that it also took courage to take this different path. "Everyone who asks me what I do and I tell them I'm going to violin making school will inevitably say, 'That's the career you want to go with?' Then they add, 'You know you're not going to make any money,'" reports Appel. "Those things are never easy to hear." She doesn't fret though. "My student violins will sell for about $2,000," she says. "Once I start working in a shop or open my own, they will go for a couple of thousand more." According to Appel, the most "amazing" world-renowned violin maker commands $40,000 for one of his violins. "I hope one day I'll get there," she says.
In the meantime, Appel is enjoying the journey. "My father [she found out later that he was initially skeptical about her career choice, but didn't let it show] taught me a valuable lesson about money and life," she says. "If your decision [about choosing a career] is based on making a lot of money and you dread the next day because you don't want to go to work, is it really worth the money? If you're happy with what you are doing, you're a better person for yourself, for Hashem and for everyone around you. When you're excited by what you do, you'll do your best."
Yoni Goldstein
Soaring to the Beat of a Different Drum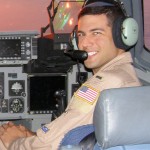 Every kid wonders what it would be like to fly. Yonatan (Yoni) Goldstein didn't leave it to his imagination; he took his dream to the sky. "I believe it's my calling," he says. "It's something I just knew I had to do," says the twenty-five-year-old US Air Force pilot.
With every military mission, Lieutenant Goldstein leaves his wife and two children in Seattle, Washington with a heavy but determined heart. Lieutenant Goldstein credits his success in his career to his wife, whose love and support  enable him to be away from home for stretches of time. "I feel that it's my duty to protect this great nation," he says. "I'm defending the Constitution and serving the people I love." He boards a C-17, a huge military transport aircraft used for rapid airlifting troops and cargo to military bases throughout the world; it can also perform tactical airlift, medical evacuation and airdrop missions. Along with his mission commander, another pilot and two loadmasters, Lieutenant Goldstein flies from Seattle to American soldiers on the ground, wherever they may be. Depending on the need, the cargo can include ammunition, tanks, Humvees, attack vehicles, medical supplies and food. The crew can fly for up to twenty-four hours in one clip. After a week of long and tiresome workdays, they head home to rest up—until the next flight.
Lieutenant Goldstein is probably the first graduate of Yavneh Academy in Dallas, Texas, to enroll in the Reserve Officers' Training Corps (ROTC). He became a commissioned officer in May of 2008, and by November entered into active service at Vance Air Force Base in Oklahoma to start pilot training. Five months later, he traveled to Pueblo, Colorado, for four weeks of more intensive training, this time with exposure to actual flying. "Within three weeks of our arrival, we were expected to fly solo," he says. "It was pretty unnerving."
In the Service of God
Lieutenant Goldstein's abiding love for Yiddishkeit only intensified as he realized his boyhood dream; he wears both his kippah and his US military uniform proudly. "There is a way to stay a religious Jew and also fulfill the requirements for the mission," he says. "It's not easy, but it's doable." He turns to rabbanim for guidance when needed. He explains, for example, that sometimes he is required to drop off cargo on Shabbat. "Because it's going to keep our soldiers alive and fighting, the rabbis have told me that our mission is tantamount to pikuach nefesh," says Lieutenant Goldstein. "This is not something I enjoy, but I know with all of my heart and soul that it's important I do it."
What Lieutenant Goldstein really enjoys, aside from flying and assisting US soldiers across the globe, is bringing them back home safely to their families. "That's the most rewarding part," he says. He also values the opportunities to make a kiddush Hashem.
"While at a downrange location [in the middle of a war zone], an airman came onto the airplane saying he had something to ask me," says Lieutenant Goldstein. "He said he forgot what day Rosh Hashanah was. He asked me, 'Is it Tuesday or Wednesday?' I inquired if he had contacted a chaplain for his holiday food needs, like apples, honey, grape juice, challah. He said he didn't, so I gave him the e-mail address of a chaplain and told him to e-mail him and get what he needed."
It's Time for Neitz
On each mission, Lieutenant Goldstein brings his siddur, a copy of Me'am Loez on the Parashah, and a mussar sefer. "I realized I needed to do something extra to make sure I stay true to my beliefs," he says. "I find it very challenging working in an environment where it would be easier to say 'I don't need to keep strictly kosher here; it's [too] difficult.' You have to work around it, plan ahead, in order not to be tempted to eat something non-kosher or break Shabbat when it does not directly concern saving people's lives."
Goldstein's high school friends typically went into law, medicine and business. He admits that some were surprised by his choice of career. "I've never been someone who tries to seek the approval of the crowd," he says. "I've always marched to the beat of a different drummer."
Lieutenant Goldstein makes sure to bring enough kosher food with him on each mission, and if the plane lands on Shabbat, he has other crew members use his credit card, help him with his bags, and turn the refrigerator light off in his room. "I make it a point to daven on time whenever possible," Lieutenant Goldstein says. "Since we fly during hours of darkness, as soon as I see the sun come up I think, great, it's time for neitz. I'll tell the other pilot that I'm checking out for twenty minutes. I put on my tefillin and tallit and pray Shacharit facing the sun in the cockpit. From that altitude, you can clearly see the orb coming up from the horizon."
Lieutenant Goldstein credits the long school days and demanding studies in yeshivah for providing him with the stamina for the job. "Almost every mission . . . has its own set of difficulties and problems you have to solve," he says. "It's complicated and you could have dozens of diverse problems simultaneously. Yeshivah taught me how to think on my feet, how to analyze a situation with a critical eye. We would read a pasuk in Chumash and look at the grammar, the structure, syntax, and vowels. Then we were asked 'What questions do you have?' We would write our questions down and then go into Rashi, Seforno, the Ohr HaChaim, looking into the different commentaries; we found our answers right there. My years in day school gave me the foundation, the framework, to think quickly and logically in the flying environment."
Lieutenant Goldstein's high school friends typically went into law, medicine and business. He admits that some were surprised by his choice of career. "I've never been someone who tries to seek the approval of the crowd," he says. "I've always marched to the beat of a different drummer." Although he loves his job, he's not so quick to encourage frum youth to join the Air Force. "I would tell them, 'If this is your dream, pursue it; if it isn't, I can't guarantee you'll be successful,'" he says. "You have to have an extremely strong sense of patriotism, a strong work ethic, and you have to be very secure in your Judaism. If you're not, it is very easy to let it fall by the wayside for expediency's sake."
Lieutenant Goldstein recently shared the wisdom of his experience with NCSYers in Seattle. "I told them that no matter what career they choose, it's not only achievable, but it is commendable to stay true to and grow in Judaism," he said. "It's not just a matter of personal satisfaction. It's a matter of integrity—to our history, and the Torah. I was Jewish before I became an officer and will be when I retire. I intend to try to be as religious as I can all the days of my life. That's what it's all about—to be a devoted servant of God."
Spoken like a true serviceman.
Jonathan Spielman
My Son, the Investigator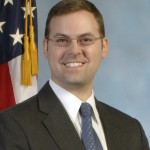 While most MBA graduates head directly for the corporate world, one idealist took a decidedly different turn. He's happily blending his business acumen with his yen for public service—at the FBI.
A member of the FBI's Special Advisor Program, Jonathan Spielman, a graduate of Yeshiva University and Georgetown University, applies his business expertise to help improve the bureau's field office operations. He operates very much like a management consultant in the corporate world, providing advice with the aim of creating value, maximizing growth and improving performance.  "I identify the issues that need addressing and help find solutions," says Spielman. "Unlike in the corporate world, finding intelligence gaps [for the FBI] or discovering better methods not only saves money, it also could save lives."
The FBI—Post 9/11
One doesn't typically picture a team of business management specialists working for a US government agency, but 9/11 dramatically changed things.
According to a Time magazine cover story ("Is the FBI Up to the Job 10 Years After 9/11?," May 9, 2011), the tragedy represented "the worst hour in the FBI's ninety-three-year history." The article goes on to say that field offices in Phoenix and Minneapolis had gleaned important clues about the terror plot long before 9/11; however, as both locations were unaware of what the other one knew, they couldn't put the pieces together.
In the aftermath of 9/11, the FBI doubled its agent force on national security and tripled its number of analysts. "They were looking to be more proactive and more intelligence-driven, as opposed to investigating crime after the fact," says Spielman. "The organization went through a major growth and mission readjustment. They were looking to improve the internal processes, the strategic planning, and business and performance management." In order to best accomplish its new objectives, the FBI recruited the nation's top MBA and public policy graduates.
In his three years with the FBI, Spielman has worked to improve various departments at the FBI, including human resources, information technology, and critical records management. Currently, he is overseeing a performance management process. His expertise enables the FBI executives at headquarters and the leaders of local field offices to determine how well each branch knows its territory and to identify each branch's investigative strengths and weaknesses.
Spielman views his yeshivah education at Maimonides School in Brookline, Massachusetts, Yeshivat Sha'alavim in Israel, and Yeshiva University, as an asset to his career. "I bring an approach from Torah study to my work," says Spielman, who is a member of the Kemp Mill Synagogue, an OU-member shul in Silver Spring, Maryland. "I realize that there is often greater complexity to an issue which superficially appears straightforward. My analytical perspective is enhanced by my experience in assessing all sides of a sugya or differing commentaries on a pasuk."
In turn, his work has inspired his Judaism. "I have more kavanah when saying the tefillah for the government and military," he says. "My exposure to the FBI workforce and broader government has enabled me to meet some of the thousands of people working around the clock to help support the safety and security of the American people. They make daily sacrifices and deserve our consideration and prayers for continued success."
Spielman's introduction to the FBI came while attending Georgetown University. Intrigued by an FBI recruiter's pitch, he joined the program. Spielman values his role in supporting the FBI's efforts and helping the bureau run cost-efficient, optimally effective programs. "I am contributing to something I believe in," he says.
 From Boy Scout to the FBI
Spielman cultivated his sense of patriotism early on. An active member of a shomer Shabbat Boy Scout troop from ages eleven to eighteen, he attended a kosher Boy Scout camp each summer, toured Washington, DC, and met President Clinton at the 1997 National Scout Jamboree at Fort A. P. Hill, Virginia. Spielman quickly ascended the ranks, earning the twenty-one merit badges and completing a community service project required to become an Eagle Scout. He continues his involvement as an adult leader of the troop.
Spielman's family has been very supportive and excited about his government position. "The FBI came up in a book during story time at my daughter's kindergarten class," he says. "My daughter told her teacher, 'My Abba works there!' [My family's] very proud of me."
Ironically, Spielman's friends who pursued MBAs and took the more traditional path of seeking careers in the corporate sector, had trouble finding jobs. "Perhaps the compensation [in government work] is not as high, but I find what I do rewarding," he says. "The more effective and efficient the FBI operates, the better it can protect the American people."
Bayla Sheva Brenner is a senior writer in the OU Communications and Marketing  Department.
This article was featured in the
Spring 2012
issue of Jewish Action.