Remembering Anne Samson
By Batya Rosner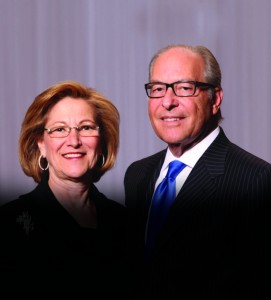 When 175 teenagers ended up in the hospital with food poisoning at a West Coast NCSY event subsequently dubbed the "Malibu Malady Madness," Anne Samson, a"h, stayed with them at the infirmary. She refused to have the event canceled. When the cook quit erev Shabbat at another NCSY event, Anne took over the kitchen and prepared to feed 250 campers and staff. Baby in tow, she recruited family members to help. When three feet of snow unexpectedly blanketed the area before a Lake Tahoe Regional Shabbaton, Anne was there to comfort anxious NCSYers while staff members hastily adjusted the program.
A pillar of sanity. A big sister. A mentor. A teacher. A dreamer. A leader. Anne, in her role as wife to West Coast NCSY Regional Director Lee Samson, made sure the NCSY show would go on.
Although she appeared to be a quiet woman, Anne, who died unexpectedly in August 2013, was strong, supportive and always available for a positive word of advice—crucial elements in a teenager's life. As the founding first lady of West Coast NCSY, Anne Samson was its neshamah. And in this role, she set the bar of excellence for all future spouses of NCSY directors across North America and inspired countless teenagers.
Born in a displaced persons' camp in Salzburg, Austria, in 1947, Anne Katz moved to Los Angeles with her parents in 1949. As the eldest of three siblings and only daughter of Holocaust survivors, Anne was strongly influenced by the solid Jewish values in her home. With a strong belief in the Jewish connection to Israel, members of the Katz family were proud Religious Zionists. Anne became involved in Bnei Akiva at a young age, attending its Camp Moshava in the summer. There she met Lee, whom she married when they were both nineteen years old.
Early in their marriage, Anne worked as a secretary at UCLA as Lee studied full time and took a part-time position as the youth advisor of Congregation Beth Jacob in Beverly Hills. "I knew he was a dreamer, that he had a vision, and that he was really a go-getter," Anne reminisced in a tribute video shown at the 2014 Ben Zakkai Honor Society's NCSY National Scholarship Dinner, where the OU and NCSY honored Anne's legacy.
In time, word spread of the successful Beth Jacob youth program and during a visit to California, Rabbi Pinchas Stolper, the then-national director of NCSY, approached Lee to join the NCSY family. Lee became the founder and the first full-time regional director of West Coast NCSY.
Anne and Lee lived, breathed, traveled and dreamed NCSY. Together, the Samsons grew the region from its founding Shalom Tzion chapter of Beverly Hills to one that spanned a quarter of the North American continent, from Anchorage, Alaska to Phoenix, Arizona and from Edmonton, Alberta to San Diego, California.
The Samsons lived modestly, and Anne worked tirelessly to raise their three children Dani, Aliza and Tali while helping to support the family with her salary. Somehow, she also found countless hours to mentor the teens that flocked to her for guidance and validation. She listened to them; she strengthened them.
When NCSYers weren't at a Shabbaton, half a dozen could be found spending Shabbat at the Samson home, known for its beautiful singing and Anne's delicious home-cooked food. "In the Jewish home, the Jewish mother cooks," she is quoted as saying in the video. "A Jewish mother has to make sure that her husband and children are well-fed; that's just how we are."
As the founding first lady of West Coast NCSY, Anne Samson was its neshamah.
Anne played much more than a supporting role to her husband. She was a full partner and a model of how one could be simultaneously cool, elegant, observant and fun.
"She was explaining to these young women that Judaism can be joyous—the warmth of Shabbat and the singing on Shabbat," Lee recalled about his wife. "Opening our home and giving to other people is what made Anne Anne. Hachnasat orchim was a big part of our life."
Within two years, the new region was acclaimed "Region of the Year" at the NCSY National Convention. The first tentative summer seminar with Yeshiva University in 1969 in Tacoma, Washington, led to a sense of bigger and better events—climaxing in ten-day programs over winter break in Malibu and Catalina in 1972 and 1973.
When dozens of public school students began to consider a yeshivah education, Lee played a major role in creating two yeshivah high schools on the West Coast that catered to NCSY participants. The Samsons often used part of their salary to pay tuition for NCSYers. When finances were tight, it was Anne who insisted they continue, and was willing to take additional jobs to fund the tuitions.
When conventions and week-long winter seminars were not enough, Lee took the bold step of launching the first summer camp under NCSY auspices, Camp NCSY West. For five summers, Lee willed the camp into existence, providing hundreds of teens and preteens with a life-transforming experience. Anne provided the camp's neshamah, the soothing touch, the contagious love for Am Yisrael, Torat Yisrael and Eretz Yisrael that turned a summer camp into a family.
"The Samsons were pioneers and remarkable visionaries," reflected Allen I. Fagin, executive vice president of the OU and former OU Youth Commission chairman. "While Lee and Anne Samson could have chosen many fields of endeavor, they made a choice, one that profoundly impacted the lives of countless teens from all over the West Coast and beyond. They were the first to accept professional leadership positions in NCSY and created a model that has served as a template for so much of NCSY's subsequent activity."
Lee and Anne moved on from their professional roles in NCSY in the early 1980s, yet remained involved with the OU and NCSY. Their roles in Jewish communities across North America and Israel expanded and they become benefactors of institutions and philanthropists. Yet the bonds Anne forged during those formative NCSY years continued to grow and the families she nurtured continued to reach out to her for advice. Many of her NCSYers went on to become leaders within the community; for some, she was their only link to Judaism.
In 1995, Lee Samson was honored at the first Ben Zakkai Honor Society's NCSY National Scholarship Dinner. Dr. David and Vivian Luchins, close friends of the Samsons who have chaired the event since its inception, felt that Anne should be included as an honoree that evening as well. "We called Anne to ask if we might add her and she quickly declined," they remembered. "She told us, 'It's Lee's night; I work behind the scenes.'"
Anne's death left a void in so many lives. Unaware of the full impact his wife had on the young women of NCSY, Lee was surprised to receive so many letters after the tragic accident that claimed Anne's life.
In the tribute video and journal at the dinner honoring Anne, many recalled Anne's selflessness, including Melanie Rechnitz, who first met the Samsons in 1979. Upon Melanie's marriage, Anne and Lee hosted one of her sheva berachot. "Anne was working full time and she stayed up the whole night cooking," Melanie remembered. "And she cooked it all with love."
"She never said a bad word about anyone," wrote Marilyn Sohacheski in the journal. "She listened without interrupting, loved without condition and was always ready to help anyone or any cause that required her effort."
At the dinner, the OU inaugurated the Anne Samson Memorial Scholarship, which will provide Jewish youth with little or no Jewish background life-changing experiences through NCSY programs. Additionally, NCSY renamed its most popular summer program for public school students in her memory, now The Anne Samson Jerusalem Journey.
May her memory be a blessing
Batya Rosner is a staff writer at the Orthodox Union.
This article was featured in the
Winter 2014
issue of Jewish Action.