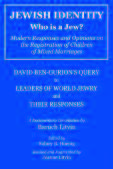 Jewish Identity: Who is a Jew?
Compiled by Baruch Litvin
Ktav Publishing House, Inc.
Jersey City, 2012
372 pages
In 1958, an embattled Prime Minister David Ben-Gurion, on orders from a Knesset committee, sent inquiries to fifty Jewish scholars around the world concerning the "Who is a Jew" issue (i.e., how should Israel register the religion of questionable cases, such as the child of a Jewish father and gentile mother who was being raised Jewish?). Respondents included a veritable "who's who" of Jewish scholarly leadership of the time. Included among them are many Torah giants, such as Rabbi Joseph B. Soloveitchik, Rabbi Aharon Kotler and Rabbi Yechiel Yaakov Weinberg. The industrious Baruch Litvin later arranged the translation and publication of the answers sent to Ben-Gurion. The original book appeared in 1965; this reprint, with three new essays, reminds us that the debates of last century continue to haunt us.
The most important piece of information in this issue was obvious: resolving the question of "who is a Jew?" was merely for the purpose of government registration; it was not a halachic issue. Yet the scholars responded nearly unanimously, from all segments, that we must adhere to the traditional definition of Jewish identity. Whether for the sake of unity, prevention of assimilation or otherwise, each warned in his unique way about the hazards of redefining a Jew. Decades later, when conversions are questioned and patrilineal descendants of Jews abound, we witness the tragic results of disputed definitions of Jewishness.
Rabbi Gil Student writes frequently on Jewish issues and runs TorahMusings.com. He is a member of the Jewish Action editorial board. 
This article was featured in the
Fall 2013
issue of Jewish Action.