Reviews in Brief
Movers & Shakers: Sixty Prominent Personalities Speak Their Mind on Tape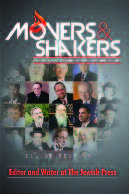 Movers & Shakers: Sixty Prominent Personalities Speak Their Mind on Tape
By Elliot Resnick
Brenn Books, 2013
344 pages
Headlines are often misleading. They tell you what is newsworthy, what is unusual. They don't tell you about the important people who make the world run smoothly. Elliot Resnick's Movers & Shakers introduces readers to people who may be famous but not necessarily for the right reasons. Resnick interviews them and asks not only about what is newsworthy, but also what is ordinary, thereby offering a window into the fascinating world of different personalities.
His interviewees run the gamut from rabbis to politicians to professors to comedians, and much more. (Full disclosure: I am interviewed as a blogger.) Each person talks about why he or she is being interviewed, often the publication of a book and his or her background and worldview. The interviews were originally published in the Jewish Press, updated for this book with new material. Most interviewees are Orthodox Jews, but even those who are not focus on issues relevant to the Orthodox community.
This book contains many surprises because Resnick is not afraid to ask tough questions. Almost every interview includes a question designed to make the interviewee squirm (mine was about Chabad messianism). The result is an interesting, surprising, broadening read that introduces readers to a wide spectrum of our community and many external people of interest.
Rabbi Gil Student writes frequently on Jewish issues and runs TorahMusings.com. He is a member of the Jewish Action editorial board. 
This article was featured in the
Fall 2013
issue of Jewish Action.