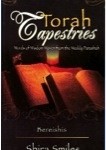 By Shira Smiles
Feldheim Publishers
Jerusalem, 2010
224 pages
Reviewed by Holly Pavlov
Shira Smiles is a well-known name in Jewish education, and has been one for many years. Torah Tapestries, her newly published book on Sefer Bereishit, is her latest contribution to the Torah world. In this book, Smiles provides the reader with an insightful and inspirational read that will help foster one's growth as a Torah Jew.
Every chapter of Torah Tapestries is a journey in itself, led by an inquisitive and encouraging guide. Through questioning and relating the events in Bereishit to familiar concepts and emotions, Smiles encourages the reader to search for depth beyond a simple understanding of the narrative. For example, in the chapter on Parashat Noach, Smiles examines the characters of Noach and his contemporaries using a Socratic style. From the chapter's onset, the reader begins to relate to the story: What about the story resonates within us? Does our generation have the same character flaws as Noach's? In the subsequent pages, Smiles focuses on chesed, using the parashah as a backdrop. She shows the reader how Noach learns to go above and beyond his own capabilities by feeding the animals in the Ark all year. This challenging act of loving-kindness teaches Noach how to truly give, enabling him to build a new world on the foundations of benevolence and chesed.
At the end of each chapter, Smiles provides a concise review of the lessons learned using a question-and-answer format. Smiles delivers her messages clearly and readily applies them to today's world. One plainly sees how the events of Bereishit provide ever-present and valuable life lessons, including overcoming obstacles and challenges, strengthening interpersonal relationships, connecting with our Creator and maintaining our Jewish identity.
Torah Tapestries draws on a unique synthesis of sources from throughout the Torah world. This selection includes commentaries ranging from Rishonim to modern-day commentators (both Litvish and Chassidic). All ideas and sources are well footnoted, providing the reader with the ability to research a concept in the original. The Hebrew phrases and passages quoted are transliterated and translated with accuracy and precision.
Whether you are looking for some words of wisdom to share at the Shabbat table or a guide for your own spiritual development, Torah Tapestries comes highly recommended. With this book, Smiles has succeeded in creating a well-worded tapestry of her own.
Rebbitzen Holly Pavlov is the founder and director of She'arim College of Jewish Studies for Women in Jerusalem (www.shearim.com) and the author of two books, Mirrors of Our Lives: Reflections of Women in Tanach (Jerusalem, 2000) and Water from the Well: Reflections of a Jew at the End of History (New York/Michigan, 2006).
This article was featured in the
Winter 2011
issue of Jewish Action.