By Tamar Snyder

In the not too distant past, three frum children—ages nine, twelve, and fifteen—shuffled into the Masbia kosher soup kitchen in the Flatbush section of Brooklyn. Despite the warm ambiance and restaurant feel, the children sat huddled over the table, clearly uncomfortable. They quickly gulped down their food, not bothering with small talk. After they ate what may have been their first hot meal in several days, the waitress brought them cookies for dessert. "Do you need food for anyone else?" she asked gently. "My parents dropped us off, but they are too embarrassed to come in," one of the children responded.
More than 40 percent of the estimated one million Jews living in New York are poor or needy, up from approximately 33 percent in 2003.
"That story, it's a nightmare," says William Rapfogel, CEO of Metropolitan Council on Jewish Poverty in New York. "How many Orthodox people are there who are too embarrassed to even let their kids come and eat?"
According to Met Council, an estimated 40 percent of the one million Jews living in New York are poor or needy, up from approximately 33 percent in 2003. "Some would argue that many of those who receive government entitlements, such as Section 8 housing subsidies, food stamps, Medicaid, et cetera, are actually better off than the near-poor or middle-class needy who are not eligible and much harder to help," Rapfogel says.
Jewish Communities Particularly Hard-Hit
For Jewish communities around the country, the economic downturn, which began with the stock market crash in 2008, has persisted, marked by volatile financial markets and an increase in the number of people who are unemployed or underemployed. Treasury bills, often considered a good indicator of the country's long-term growth prospects, are in the low 2 percent range. Recent reports from the US Department of Labor indicate that companies are slow to begin hiring, and consumer confidence has fallen to levels seen when the recession first began.
At the same time that many were forced to accept a significant drop in salary, if they were even able to find a job, the high costs of Jewish living—which includes yeshivah tuition, kosher food, and a home within walking distance of a shul—continued to increase. As a result, it has gotten all the more difficult to afford to lead an Orthodox lifestyle.
The opening of three new Masbia kosher soup kitchens between 2009 and 2010 (currently there are sites in Brooklyn's Boro Park, Coney Island and Williamsburg neighborhoods and in the Rego Park section of Queens) attests to the increased need among Orthodox Jews for even the basics. Masbia has experienced an almost 300 percent increase in meal distribution, serving more than 150,000 meals this year alone.
Re-defining Work in a Recession
The Orthodox community was disproportionally affected by the recession, says Michael Rosner, director of the OU Job Board, a program that assists job seekers, because many Jews in the workforce comprised middle to upper management. There is no hard data available to buttress this assertion, since statistics focused on poverty and foreclosures are generally sorted by geographic location rather than religion.

Serving food at the Masbia Kosher soup kitchen in the Flatbush section of Brooklyn. Courtesy of Masbia.
"The number-one problem I'm seeing now is underemployment," says Rosner.
To pay the bills, many former executives who earned six-figure salaries have taken lower-paying jobs in middle management and suddenly need to learn how to create Excel spreadsheets, a task their secretaries may have handled in the past. In general, a job paying $60,000 is not a bad job, he says. But for Orthodox breadwinners in the New York area—who shoulder added costs of leading a frum lifestyle—"it's impossible," he says.
There is a silver lining to the current economic realities: people are beginning to save again.
The bad news is that most of the jobs that have been lost will never come back, says Rosner.
"Those in the forty to fifty-five-year-old age bracket tend to be the hardest hit," he says. Nearly half of the people served by UJA-Federation of New York's Connect to Care, an initiative that provides one-stop assistance to those experiencing financial difficulties, are between the ages of forty and fifty-four, says Alex Roth-Khan, project manager for Connect to Care. UJA-Federation of New York is helping this cohort develop entrepreneurship opportunities and start small businesses. "They often have strong ideas, a successful work history, and some assets, all of which is required to launch a new business," Roth-Khan says.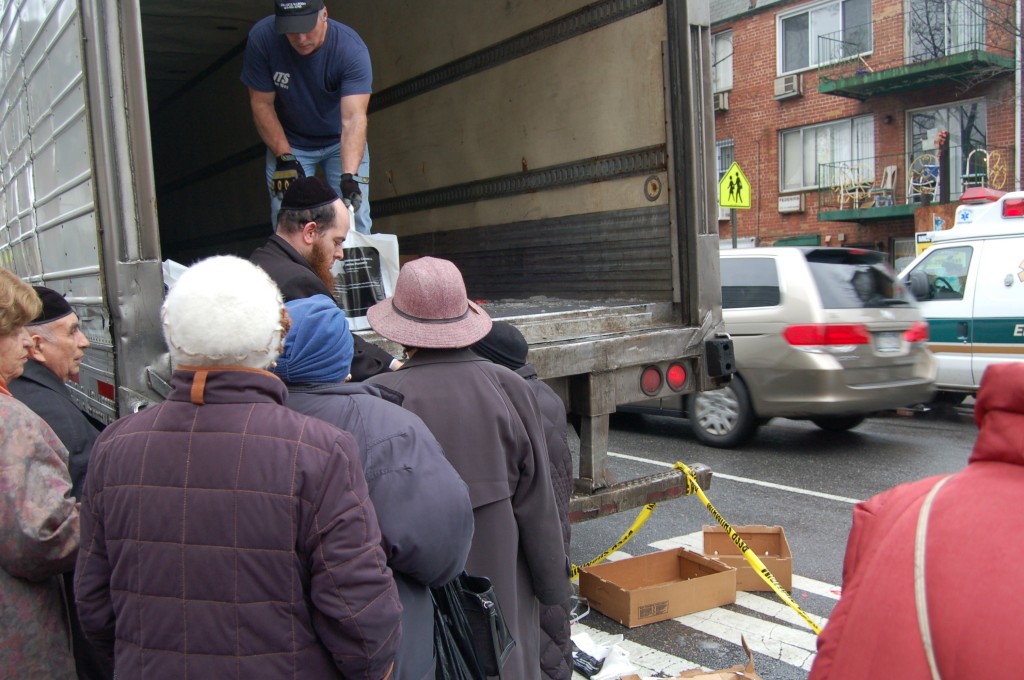 Food distribution in Boro Park, Brooklyn, organized by the Boro Park Jewish Community Council. Courtesy of Metropolitan Council on Jewish Poverty in New York
Still, there are opportunities out there. "It's a no-brainer to go into anything tech-related," says Rosner, "but you have to be on top of the game" and keep up with the latest technology. The OU Job Board (www.oujobs.org) lists hundreds of new jobs each week. In addition to sponsoring job fairs, the OU Job Board has helped more than 5,200 people find jobs since its inception in 2007 and has retrained more than 2,200 people in software like Excel.
"Two years ago, there wasn't a chance in the world that a lawyer looking for a job would find anything," Rosner says. "Now, there's a chance. That's an improvement."
To land a (better-paying) job, job seekers need to be proactive. "All jobs are sales jobs—not necessarily selling a service or product, but you are selling yourself at all times," says Shalom Klein, the founder of Jewish B2B Networking (www.jewishb2bnetworking.com), which hosts regular networking events for Jews living in Chicago, Detroit, and St. Louis who wish to grow their small businesses or find a new job. The need for the organization was borne out of Klein's experience in the family accounting business. Going through the books of small businesses, the Kleins noticed how many Orthodox-owned businesses were hurting—so much so that owners weren't able to take a paycheck. Helping Jews network with one another, he says, helps enhance everyone's bottom lines.
His advice for job seekers is to get involved and volunteer within one's community. "People want to do business with people they connect with; people want to hire people they connect with," he says. "People rely not on resumes but on relationships, so it's important to get out there and establish a name for yourself. It's all about relationships."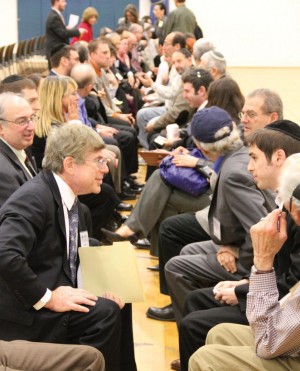 Over 175 business owners, job seekers, and networkers participate in a December 2010 speed networking event, sponsored by Jewish B2B Networking in Skokie, Illinois. Courtesy of Shalom Klein of Jewish B2B Networking
Responding to the Recession
Like many shuls across the country, the Young Israel of Century City in Los Angeles, California, an OU-member shul, has begun including job listings in its weekly newsletter and encouraging its members to share job postings with fellow congregants. "It used to be that you rarely heard of people losing their jobs; now, you may know of five to ten people who are out of work," says Rabbi Elazar Muskin, rav of the shul. "We don't have a floodgate of people losing their jobs, but we're hearing about it more often."
Rabbi Muskin believes that there's a silver lining to the current economic realities—namely, that people are beginning to save again. "This generation has not saved; people have to be taught to save," he says, adding that he believes that every high school senior should be required to take a personal finance course in order to graduate.
If families lowered their expectations, in many cases they wouldn't need to turn to the community for help further down the road.
In Baltimore, local rabbis say that the younger generation has been particularly hard-hit by the prolonged economic downturn. "There are a significant number of recent graduates who are having a hard time getting into the workforce, especially in fields like law," says Rabbi Moshe Hauer, the rabbi of Bnai Jacob Shaarei Zion Congregation, an OU-member shul.
Rabbi Hauer believes that the frum community needs to dial down its standard of living to reflect projections for continued lean times. "There exists such a level of communal expectations that people have not been able to make those adjustments until they are literally forced to," he says.
This may mean rethinking the size of the homes they purchase. "Younger couples are buying homes that are pushing their capacities now when they hardly have any expenses, before they're paying tuition," he says, adding that if families lowered their expectations, in many cases they wouldn't need to turn to the community for help further down the road.
For others, the new economic realities are motivating them to consider moving to communities with cheaper housing. In the Detroit area, for example, homes in the frum communities can be bought in the $100,000 range, says Irv (Moshe) Lowenberg, treasurer of the City of Southfield, a suburb of Detroit, who moved to the area in 1995. "We're seeing a growth now within the community; more young families are moving to Michigan from New York and other places," he says. "This is a place you can afford to settle down and raise a family and not be overwhelmed by the work it takes to balance your budget—plus, you can get twice the house at less than half the price."
Despite the low real estate prices, Detroit has had its own difficulties. It has been particularly plagued by the troubles of the three large automakers, and foreclosed homes abound. To maintain curb appeal, the City of Southfield is currently offering interest-free loans to those purchasing foreclosed homes as part of its Neighborhood Stabilization Program. Lowenberg hopes to soon expand the program to provide up to $10,000 in down-payment assistance on all home purchases, not just foreclosures.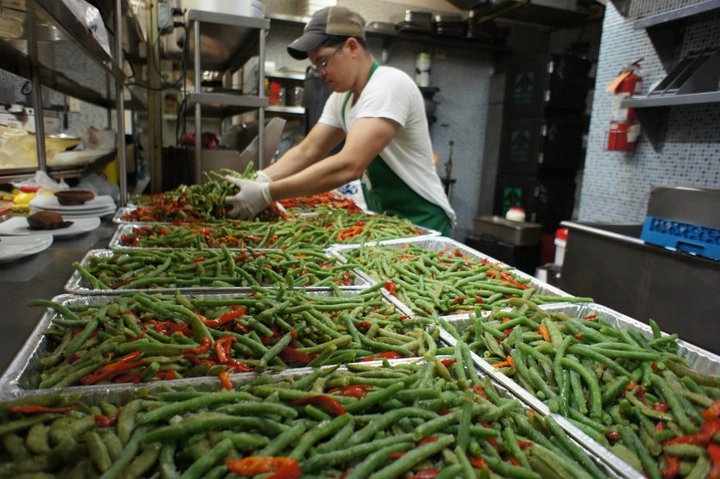 A volunteer helps prepare meals in the central Masbia kosher soup kitchen on Coney Island Avenue in Flatbush, which prepares 500 dinners a day to be distributed to the four Masbia sites. Courtesy of Metropolitan Council on Jewish Poverty in New York

Borrowing should be done as little as possible, says Rabbi Hauer, who often speaks from the pulpit about the praiseworthiness inherent in borrowing as little money as you possibly can. "People borrow as much as they can instead of however much they really have to," he says. "It's a very unhealthy way of doing things, and it catches up with us." He often recommends that his congregants learn chapter five of Rambam's Hilchot Deot, which discusses the importance of living within one's means. He also recommends, lehavdil, reading The Millionaire Next Door by Thomas Stanley and William Danko.
Organizations like Mesila (www.mesila.org), an international organization which seeks to empower families and businesses to achieve financial stability, are also stepping in to teach Jewish families the lost art of living within one's means by providing free financial planning sessions.
It's not uncommon for Josh Hurewitz, a Baltimore-based counselor for Mesila, to meet with young families who have between $10,000 and $20,000 in credit card debt. Once they move out of an apartment and into a house, debt can easily balloon to between $50,000 and $100,000 if they are not careful about their finances, he says. "Sometimes the answer is you can't afford a house, ever. That may be the reality."
Mesila helps those who are prepared to help themselves by tracking their expenses and crafting a budget. "Often this is the first time someone is sitting down with them, looking at their finances and not judging them," Hurewitz says. "I'm more of a social worker than a financial counselor. I say, 'Let's look at situation, the facts on the table.' For them, it's such a relief that they can actually talk about it openly and honestly."
Unfortunately, many frum families wait until it is too late to seek help. "The biggest problem is that so many people wait until they're just beyond help, when foreclosure is at the door or their electricity is about to be shut off, or they've maxed out their credit cards," says Rapfogel. It's important, he says, for rabbis to reach out and tell their congregants to come forward if they are struggling financially, so that they can put them in touch with organizations that can help.
Many of the rabbis and community leaders interviewed for this article expressed cautious optimism about the future of the American Orthodox community—but said that if the economy remains depressed, Orthodox Jews will need to adjust to the new economic realities. Often, readjusting takes the form of creating and sticking to a budget so that families live within their means.
"I've seen many cases where people were able to turn around their financial lives without a radical change in income," says Rabbi Hauer. "Instead of throwing away credit card bills and allowing them to grow because they are afraid of them, people who were [financially] hopeless and just spiraling" met with Mesila or another financial planner "and really turned their financial lives around."
Tamar Snyder is an award-winning writer living in the New York area.
This article was featured in the
Winter 2011
issue of Jewish Action.
We'd like to hear what you think about this article. Post a comment or email us at
ja@ou.org
.