Tired of potatoes? Preparing side dishes for Passover can be somewhat of a challenge. No pasta or rice, no bulgur, couscous or kasha, no beans or legumes—no problem!
If you're hungry for new ideas and are looking for something different to serve for Passover this year as a side dish, there's a whole world of vegetables out there for you to explore. Supermarkets and gourmet grocery stores are overflowing with a wide range of produce, from familiar to exotic.
Here are some creative side dishes that are perfect for Passover—and there's nary a potato in sight. They can do double-duty as a vegetarian main dish and three of them can be made gluten-free. These scrumptious sides, made with a variety of nutritious, delicious vegetables, are sure to become part of your Pesach repertoire and are guaranteed to impress family and friends.
Pretend Potato Kugel
Yields 8 servings
I often make this delicious, gluten-free kugel for Passover and never tell anyone that it's made with cauliflower. It's always devoured in a matter of minutes.
5 cups frozen chopped cauliflower (or 1 small fresh cauliflower)
3 large eggs
1/3 cup mayonnaise
3 tablespoons onion soup mix (about 1/2 of an envelope)
1 tablespoon potato starch
Thaw the frozen cauliflower and drain it thoroughly. (If using fresh cauliflower, steam it until tender, about 12 to 15 minutes. Drain well.) In a large bowl, mash the cauliflower very well.
Add the eggs, mayonnaise, onion soup mix and potato starch. Mix until well combined. (You can also do this quickly in a food processor fitted with a steel blade.)
Preheat oven to 350°F.
Spray a 10-inch ceramic or glass quiche dish (or a 7 x 11-inch oblong glass baking dish) with cooking spray. Spread cauliflower mixture evenly in the prepared baking dish.
Bake uncovered for 40 to 45 minutes or until firm and golden. Remove from oven and let stand a few minutes before serving.
Note: Keeps 2 days in the refrigerator; freezes well.
Chef's Secret: To reheat the frozen kugel, remove from freezer, unwrap and transfer to a preheated 375°F oven. Don't defrost it first or it will be too soft. Reheat uncovered for 20 to 25 minutes or until piping hot. If the kugel begins to brown too much, cover it loosely with foil.
Broccoli Spinach Kugel
Substitute 4 cups frozen broccoli and 1 (10-ounce) package frozen spinach for the cauliflower. Defrost completely and squeeze well to remove any excess water before preparing as directed above. If desired, sauté 1 chopped onion and 1 chopped red bell pepper in 2 tablespoons hot oil in a skillet on medium heat until golden. Add to kugel mixture and stir to combine. Bake as directed.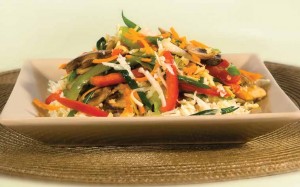 Low Carb Fried "Rice"
Photos: Doug Gilletz
Matzah Farfel and Broccoli Kugel
Yields 12 servings
This scrumptious kugel serves a large crowd, making it perfect for Passover entertaining. For a vegetarian version, you can use pareve chicken soup mix dissolved in hot water, or just use some water plus a little salt, pepper and garlic powder. 
4 cups matzah farfel
3 cups vegetable or chicken broth
3 cups frozen chopped broccoli, thawed and well-drained
2 tablespoons olive oil
2 medium onions, chopped
1 red or yellow bell pepper, chopped
2 cups sliced mushrooms
2 cloves garlic, minced (optional)
1/2 cup chopped fresh parsley (or 1 tablespoon dried)
1 1/2 teaspoons salt (or to taste)
1/2 teaspoon black pepper
5 eggs
Paprika for garnish
Preheat oven to 375°F. Spray a 9 x 13-inch baking dish with cooking spray.
In a large bowl, combine the matzah farfel with the broth. Let stand for 10 minutes or until the liquid has been absorbed.
Pat the broccoli with paper towels to remove excess moisture. Add to farfel.
Heat the oil in a large skillet on medium heat. Add the onions, bell pepper, mushrooms and garlic (if using). Sauté until tender, about 10 minutes. Cool slightly.
Add the cooked vegetables, parsley, salt and pepper to the farfel/broccoli mixture. Add eggs one at a time and mix well.
Spread the mixture evenly in the prepared baking dish and sprinkle with paprika.
Bake uncovered for 45 to 55 minutes. When done, the kugel will be golden and crusty.
Note: Keeps up to 3 days in the refrigerator. Freezes and reheats well.
Variations:
Instead of broccoli, substitute cauliflower florets. For an elegant twist, use a mixture of mushrooms (e.g., Cremini, Shiitake, Portobello).
Farfel Kugelettes: Fill sprayed muffin pans three-quarters full. Bake at 375°F about 25 to 30 minutes, until golden. Great for a crowd.
Baked Veggie Patties
Yields 18 to 20 patties
These colorful, nutritious patties are packed with goodness. Vegetarians and meat-eaters alike will ask for seconds!
3 large sweet potatoes
2 cloves garlic
2 tablespoons fresh dill
2 tablespoons fresh parsley
2 medium onions, cut into chunks
1 red bell pepper, cut into chunks
1 tablespoon olive oil
2 medium carrots
2 medium zucchini, unpeeled
2 eggs
1 cup matzah meal (or 3/4 cup potato starch)
Salt and pepper to taste
1 additional tablespoon olive oil (for coating patties)
Pierce the sweet potatoes in several places with the point of a knife. Either microwave until tender, about 8 to 10 minutes, turning them over halfway through cooking, or bake them in a preheated 400°F oven for 1 hour, until tender.
Let sweet potatoes cool until you are able to handle them. Scoop out the pulp. You should have about 3 cups. Place in a large mixing bowl.
In a food processor fitted with a steel blade, drop garlic, dill and parsley through the feed tube and process until minced. Add to sweet potatoes and mix well.
Process onions and red pepper with quick on/off pulses, until coarsely chopped. Heat 1 tablespoon oil in a large nonstick skillet on medium heat. Sauté onions and red pepper for 5 minutes, until tender.
Grate carrots and zucchini. Add to onions and red pepper and cook 3 to 4 minutes longer. Cool slightly. Add to sweet potato mixture.
Stir in eggs, matzah meal, salt and pepper; mix well.
Preheat oven to 375°F. Shape vegetable mixture into 18 to 20 patties and place on parchment-lined baking sheet(s). Oil your fingertips, then lightly oil the tops of each patty, flattening them slightly.
Bake uncovered for 10 to 12 minutes. Turn patties over and bake 10 to 12 minutes longer, until golden.
Note: These will keep for 2 or 3 days in the refrigerator. Freezes and reheats well.
Low-Carb Fried "Rice"
Yields 6 servings
This fiber-packed dish tastes just like fried rice, but it contains a fraction of the carbs. It's faux-tastic! Prepare the vegetables in advance, then cover and refrigerate  overnight. When needed, stir-fry them quickly in a wok or large, deep skillet. Undercook them slightly if you plan to reheat them to prevent them from becoming soggy. 
1/2 large cauliflower
2 medium carrots
2 tablespoons olive oil
4 cloves garlic (about 1 tablespoon minced)
1 slice ginger (about 1 tablespoon minced)
6 green onions, thinly sliced on an angle (or 1 red onion, halved and thinly sliced)
2 cups sliced mushrooms
2 red bell peppers, quartered and thinly sliced
1 cup sliced celery (thinly sliced on an angle)
2 large eggs, lightly beaten (optional)
Salt and freshly ground black pepper
1 teaspoon instant pareve chicken soup mix
1/2 cup toasted sliced almonds
Wash the cauliflower thoroughly and cut it into large chunks.
Grate the cauliflower in a food processor fitted with a grater. Use medium-firm pressure on the pusher when putting the cauliflower through the feed tube. Set aside. (The grated cauliflower is the "rice.")
Grate the carrots, using medium pressure. Set aside.
Heat the oil in a large nonstick wok or skillet on medium high. Stir-fry the garlic and ginger for 30 seconds. Add the onions, mushrooms, red peppers and celery; stir-fry for 2 to 3 minutes.
Add the grated cauliflower and carrots. Stir-fry for 3 to 4 minutes longer, until tender-crisp. Do not overcook the vegetables or they will get too soft.
If adding eggs, push the entire mixture to one side of the wok. On the empty side, add the beaten eggs and scramble for 2 minutes or until they are just set. Mix the eggs into the "rice" and season with salt, pepper and powdered soup mix.
Remove from heat and transfer to a serving platter. Best served immediately. Sprinkle with parsley (or chopped nuts) at serving time.
Note: Keeps up to 2 days in the refrigerator; reheats well in the microwave. Don't freeze.
Variation: To make this into a main dish, add cut-up cooked chicken, lean beef or turkey the last 2 minutes of stir-frying.
Norene Gilletz of Toronto, Canada, is a kosher cookbook author and food consultant. She is the author of nine cookbooks, including The NEW Food Processor Bible: 30th Anniversary Edition (Vancouver, Canada, 2011) and Norene's Healthy Kitchen (Vancouver, Canada, 2009). She is a freelance food writer, culinary consultant, cookbook editor, lecturer and culinary spokesperson.
This article was featured in the
Spring 2012
issue of Jewish Action.