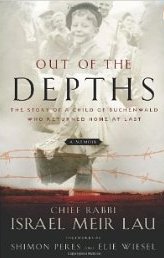 Out of the Depths:
The Story of a Child of Buchenwald Who Returned Home at Last
By Chief Rabbi Israel Meir Lau
Forewords by Shimon Peres and Elie Wiesel
OU Press, Sterling Publishing Co.
A gripping tale, an uplifting, inspiring story. Out of the Depths is all of this and more, as it chronicles the miraculous saga of former Israeli Chief Rabbi Israel Meir Lau's survival and triumph. The essence of the book is captured by a vignette recounted by Rabbi Lau about one of his first meetings with Yitzhak Rabin. Rabin asked Rabbi Lau about his personal background: "I know about your past in the Second World War . . . I know you [and your brother] came to Israel as orphans. But herein lies the great mystery that I am unable to solve: How is it that an orphan boy, without any source of emotional support, grows up to be the chief rabbi . . . Who educated you? Who brought you up?" The answer to this mystery is the story of Out of the Depths.
The descendant of a distinguished rabbinic lineage, Rabbi Lau was five years old when he and his family in Poland were swept up in the savagery of the Holocaust. Protected by his brother in the camps, Rabbi Lau recounts his harrowing experiences and his survival against all odds. Liberated from Buchenwald, he and his brother made their way to Israel, the rest of their family having perished. Taken in by extended family and enrolled in Israeli yeshivot, the young boy with the remarkable intellect, mature beyond his years, soon earned the respect and admiration of all who came to know him. From the outset, he seemed destined for greatness, and Out of the Depths takes the reader on a journey with Rabbi Lau as he recounts, in a modest and matter-of-fact manner, how he progressed from a shy yeshivah student to being at the pinnacle of public life as chief rabbi of Israel.
A charismatic leader, Rabbi Lau is also a natural-born story teller. As a leading religious figure, Rabbi Lau tells of interactions with prominent Israeli politicians and statesmen, as well as world leaders such as US Presidents Jimmy Carter, Ronald Reagan and Bill Clinton, Soviet President Mikhail Gorbachev, Pope John Paul, and many others. Rabbi Lau's accounts of these meetings are engaging, and at times even moving. In this remarkable book, Rabbi Lau's wisdom and noble character consistently emerge.
This article was featured in the
Winter 2011
issue of Jewish Action.