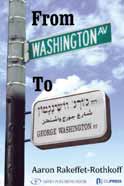 From Washington Avenue to Washington Street
By Aaron Rakeffet-Rothkoff
OU Press, Gefen
When we think of Internet celebrities, our minds automatically veer to popular YouTube performers or controversial bloggers. Who would think of a rabbi with strong institutional ties and credentials, a man who has been teaching Torah on three continents for over fifty years? Yet Rabbi Dr. Aaron Rakeffet-Rothkoff's weekly online lectures are captivating audiences around the world at YUTorah.org.
A trained historian who has published definitive biographies of Rabbi Bernard Revel and Rabbi Eliezer Silver as well as other scholarly works, Rabbi Rakeffet has now provided us with his own life story in the form of a scholarly memoir. Describing the historic events he witnessed in sometimes turbulent times, he provides the reader with background and context along with personal narrative and engaging anecdotes. There are remarkable stories of the famous personalities he met and interacted with, his fascinating travel adventures, and the famed schools in which he studied and taught.
The reader accompanies Rabbi Rakeffet on his life's journey brimming with experiences as widely varied as his growing up in the Bronx, teaching Talmud at Yeshiva University, participating first-hand in the growth of Torah institutions in Israel, serving as a rabbi in the Israeli army, and teaching Torah undercover in the Soviet Union. From Washington Avenue to Washington Street, written with the precision of a scholar and the liveliness of a storyteller, is a compelling record of a long and continuing life of Torah teaching in a quickly changing world.