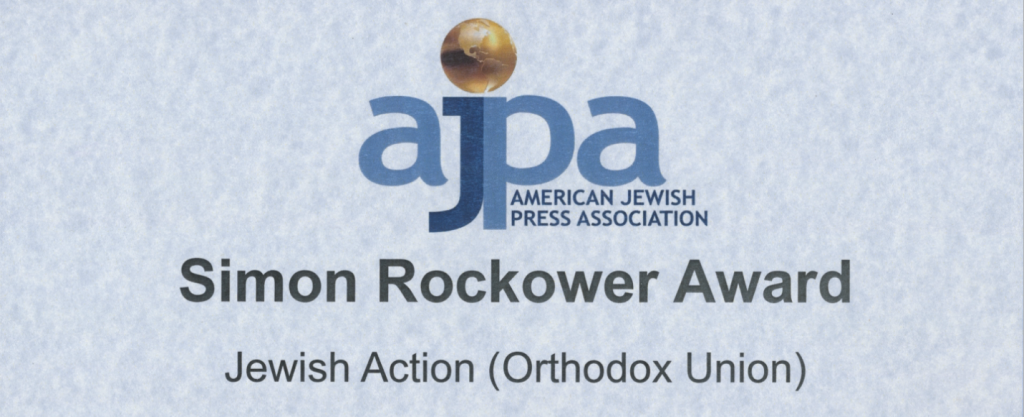 At the American Jewish Press Association 2019 Conference, held this past June in St. Louis, Jewish Action, the magazine of the Orthodox Union, won two Simon Rockower Awards for Excellence in Jewish Journalism for work that appeared in 2018. "A Chaplain's Tale During the Korean War," by Ruchama Feuerman won Second Place in the Excellence in Feature Writing category (https://jewishaction.com/jewish-world/history/chaplains-tale-korean-war/). "Time to Sing a New Song" by Toby Klein Greenwald was awarded Second Place in the Excellence in Writing about Women category (https://jewishaction.com/life-ordeals/time-sing-new-song-thoughts-one-year-breast-cancer-diagnosis/).
OU Executive Vice President Allen Fagin, one of the speakers at the AJPA Conference, said, "Our heartiest congratulations to the authors, to the Editorial Committee and to the entire editorial team. Jewish Action continues to outdo itself in the outstanding quality of its journalism and makes us all very proud."
The prestigious awards, referred to as the "Jewish Pulitzers," are sponsored by the AJPA, which holds a journalism competition for leading Jewish magazines and newspapers from across the country. The entries are judged by a panel of judges with expertise in journalism, writing/reporting, editing, graphic design and cartooning in both the Jewish and non-Jewish media. This is the ninth year in which Jewish Action has participated in the Rockower Awards competition, and it has been honored in each of the nine years.
Jewish Action Committee Chairman Gerald M. Schreck said, "Although we set the bar high, it's reassuring to be recognized nationally as an award-winning magazine whose writers are certainly of the highest caliber. As Jewish Action's chairman, I am privileged to participate with our hardworking editor and Editorial Committee in producing a magazine very much appreciated by our loyal readers and the Jewish community."
To subscribe to Jewish Action, visit https://jewishaction.com/subscribe/.